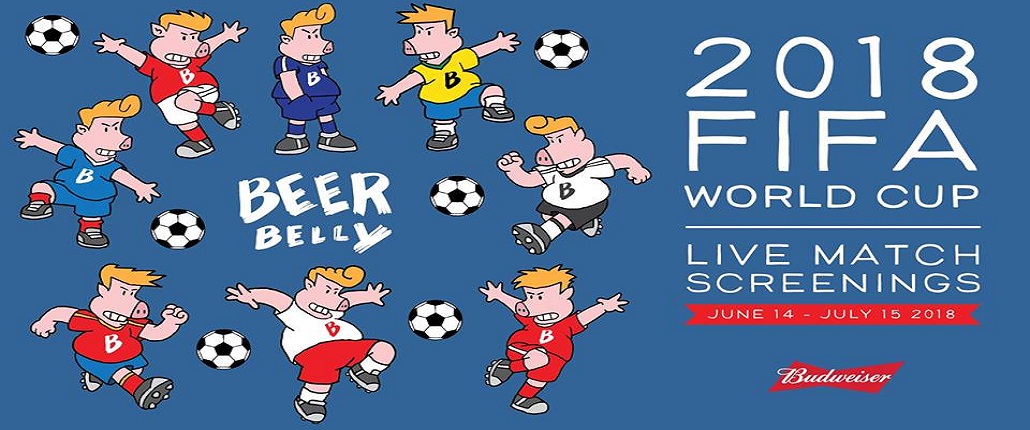 It's FIFA fever! #WorldCup2018 is just around the corner. Beer Belly makes sure everyone enjoys the tournament at its best with live matches on screen, special food and booze menu, and of course lots of fun world cup entertainments ????????
???? We screen EVERY MATCH, EVERY DAY. Full schedule will be announced on this event's discussion tab. Y'all could also follow our IG @BEERBELLYBKK for weekly schedule update! We promise to keep everyone posted!
???? Special Package Menu is comprised of 4 sets:
???? Warm Up Set (3-4 ppl., 3,999 THB)
2 beer towers + 3 snacks
???? Striker Set (4-6 ppl., 5,999 THB)
3 beer towers + 3 snacks + 1 main
???? Champion Set (6-8 ppl., 9,999 THB)
JW gold label + 1 Moscato sparkling wine + 2 beer towers + 3 snacks + 2 mains
???? Underdog Set (8-10 ppl., 12,999 THB)
JW gold label + 1 Belvedere + 1 Coeur De Bulle sparkling wine+ 2 beer towers + 3 snacks + 2 mains
BEER LIST: Hoegaarden Witbier, Weihenstephaner Original, Stella Artois, Erdinger and Sapporo
SNACKS: Beef Nacho Cheese Fried, Laab Salmon with Chips, Beef Tartare with Chips, Pork Skewer and more.
MAINS: BBQ Pork Ribs, Fried Iberico Pork Hock, Mixed Sausage Grilled and more.
???? Entertainment programs are ranging from Beer Belly games, live bands to World Cup fun! Come find out by yourself ????
???????????? Book your spot in advance to get limited #Budweiser drawstring bag! ✆ 02-392-7770 ????????????