As we alluded to in a previous article Billboard bar in Bangkok is widely regarded as the capitals number one go-go bar and deservedly so! If Billboard is Bangkok's premier bar, who can lay claim to that mantle in Thailand's nightlife mecca of Pattaya?
One such bar that I hear widely mentioned as Pattaya's best go-go is Sapphire Club. The bars Facebook page states that: "Sapphire Club is the jewel of Pattaya's nightlife scene. Enjoy a unique blend of classic music, beautiful hostesses and entertaining hosts at the best prices on Walking Street".
Sapphire's Facebook page has a professional feel to it, and it's obvious to see that a lot of time and money is invested in high-end photography and media production to help market the bar. Sapphire has well over 100k followers, so they must be getting something right! With this in mind, I was keen to see for myself if the bar's success has been built on smart marketing, or it is indeed the real deal?
Sapphire is located on Walking Street Soi 15 a sub-Soi off Walking Street, nestled within a small narrow alleyway containing several go-go bars. However; Sapphire is instantly recognizable by its imposing palatial, marble-tiled clad exterior that incorporates TV screens (showing action from within the bar) as well as illuminated Sapphire signage all bathed in bright neon lighting; giving the bar the feel of a high-end gentleman's club that puts it head & shoulders above its neighbours'.
On my visit to Sapphire, I was greeted by smartly dressed security staff who were polite, friendly and greeted me warmly; they even opened the door for me! Top marks there, it's not often in Thailand you're greeted with such courtesy by door staff — my Sapphire experience was off to a good start.
Once I entered, I was greeted by one of the many friendly service staff who welcomed me with a smile and was shown to a suitable table. The waitress produced a menu, and I ordered accordingly, service was swift and professional, and the beer was just as it should be — ice cold. You certainly won't get any moody madams scowling and banging beer down in front of you in a huff here.
Sapphire's drinks prices are very reasonable given its location and runs a happy hour until 10 pm with bottle beer at a wallet-busting 90B. On Sunday evening its happy hour all night long, an absolute bargain for those on a budget.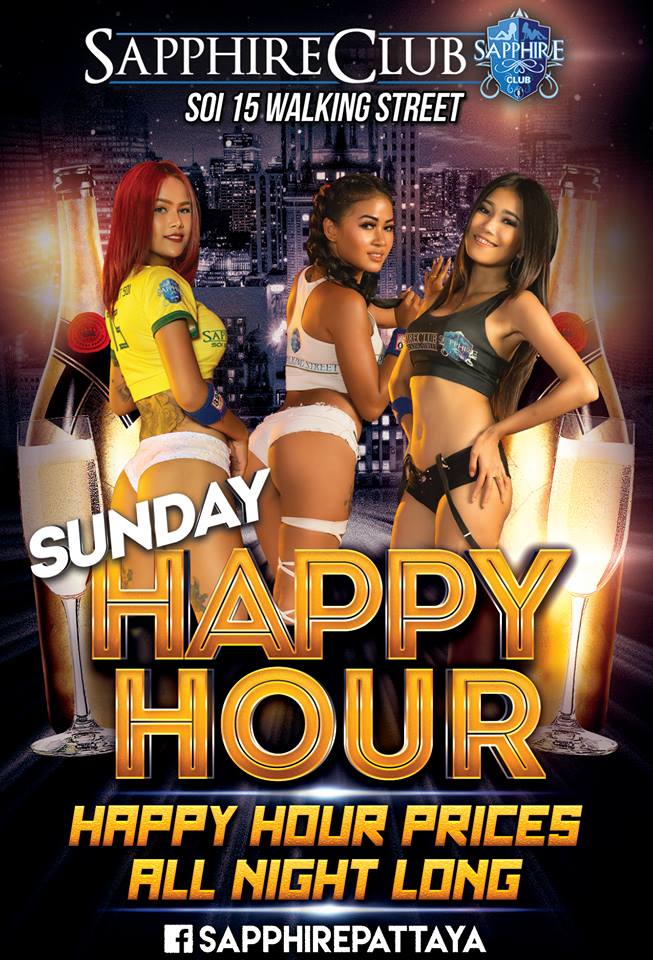 Sapphire is one of Pattaya's super bars, it's huge inside and dwarfs most other bars on Walking Street. Often the problem with bars on this scale is the atmosphere, or lack of it more to the point. Bars of Sapphire's size often find it almost impossible to generate a fun-filled atmosphere — not Sapphire. As soon as you enter the first thing you notice is the atmosphere, at times especially at the weekend the atmosphere is super-charged by revellers out to enjoy themselves.
The focal point of the bar is the S-shaped stage which is surrounded by a 360 degrees Perverts Row. "Pervert's Row" is the seating directly in front of (or around) the stage at a go-go bar. The view is incredible and provides easy access to the stage itself, offering a bird's eye view and the best chance of stripper interaction. Sapphire has one of the best Perverts Rows in the business, for maximum interaction with the girls. One thing I noticed about the stage was it didn't feature any chrome poles, which I think is an excellent concept. Too many bars now allow girls to congregate around them and stand to chat to each other complaining that last night's Som Tam wasn't spicy enough instead of entertaining customers. Another thing I like about the stage set up was that there girls rotated around the stage; no matter where you sit you get a look at all the girls rather than just looking at one girl for the entire routine.
If being up close and personal isn't your thing, and you would rather stalk your pray from afar then Sapphire has plush, comfortable stadium-style seating that almost surrounds the "S" shaped stage.
The bar even has its own plush alcove VIP area separate from the main bar area making it ideal for big groups who fancy having a private party, or for the ballers out there who fancy grabbing a bunch of girls and hanging out for the night in VIP surroundings. I'm guessing you could make a whole night in this joint having fun without getting bored. At Sapphire, your only limitation is your imagination.
Speaking of girls, Sapphire has the best "entertainment for the eyes" in the business. The line-up at Sapphire is the hottest I have ever seen in a go-go bar, not just in Pattaya but the whole of Thailand! Most of the girls are real knock-out lookers; whoever is in charge of recruitment certainly has an eye for the ladies. Over ninety plus girls operate in three rotations of girls with no stage fillers only there to make up the ranks — some of Sapphire's top totty is off the scale! If you wish to spend some time off the premises with one of the Sapphire Sirens the bar fine runs at 1500B, and in the region of 3-5000k for mattress actress of choice.
The bar also employs "real" DJ's as well as DJ's invited to spin the tunes from Europe not some Thai wanna-be armed with a laptop full of ear-splitting Thai EDM & Techno. The playlist was a mix of Hip-Hop, RAP, and Commercial dance, together with Thai EDM to whip the girls into a frenzy. The only criticism I have is that in my opinion, the playlist did feature too much Thai EDM rather than a balanced mix of Thai/Western tunes.
Verdict
I often hear people comment that the go-go bar industry is in terminal decline and that the future of the bar scene is bleak and will struggle to survive in its current format, I don't agree! Yes, a lot of bar owners simply believe that they can turn up switch on the lights, continue to charge higher and higher prices for poor service in a poorly maintained bar and people will continue to come.
In this format the bar industry won't survive, however; open a high-end establishment such as Sapphire that is managed by professionals who "get" the bar business and talk of the decline of the bar industry are premature.
Sapphire offers a fun-filled atmosphere for those who love to party, coupled with sexy ladies that have great attitudes, a reasonably priced, extensive drinks menu served by professional service staff. All, provided within high-end premises, placing Sapphire right at the top of the list of contenders for Pattaya's best go-go bar.
For more info check out Sapphire's excellent website here