Phnom Penh the "Wild West" of South East Asia. Stepping foot in the Cambodian capital is like stepping back in time. Unlike other megacities of the region such as Bangkok, Phnom Penh is still massively under-developed. The litter ridden city has very few skyscrapers, no real shopping malls, the infrastructure is primitive at best and as for the internet— that's something the Cambodian's have only heard about from a distant land.
You must be wondering what the hell I'm doing here? Well, that was the Cambodian capital of old. Like most cities in SE Asia, things are changing quickly! And the pace of change here is frenetic. Modern western style high-rises are replacing the run down old French Colonialist style buildings. A glance of the city's skyline reveals a hive of construction activity as high rise buildings emerge from the ground all-around, catapulting the city into the twenty-first century. A new airport has been constructed. High-end shopping malls are complete giving Cambodian's their first taste of western designer brands. Flashy SUV's replace clapped out old vehicles. Phnom Penh is a city that is upwardly mobile.
Less than an hour's flight from Bangkok and served by several budget airlines with daily flights from as little as $30 there has never been a better time to visit Phnom Penh.
Although Phnom Penh may be considered a rundown shit hole by some its nightlife is world famous, especially amongst naughty boys. Although far less glamorous than the likes of Pattaya or the Philippine's, Angeles City, Phnom Penh has a rugged and edgy nightlife scene full of hot Cambodian Cuties ready to please — and is surprisingly great fun.
Although Phnom Penh has no centralised entertainment areas such as Nana Plaza in Bangkok or Walking Street in Pattaya, there are several areas within easy reach of each other where you can hook up with Cambodian Cuties.
The main red light areas of Phnom Penh are:
Street 136
Street 130
Street 118
Street 104
Probably the closest you have to a Walking Street/Soi Cowboy venue in Phnom Penh is Street 136.
Cambodian mattress actresses are available in a variety of establishments located in these areas such as nightclubs, bars & pubs, karaoke bars and massage parlours, but by far the most popular are hostess bars.
Hostess Bars
Hostess bars aren't go-go bars! For all the fans of "Perverts Row," I'm afraid you're out of look in Phnom Penh. There aren't any go-go bars here, the closet you will find to a go-go is Mr Butterflies on Street 136 that features coyote style dancing (fully clothed) on the bar. Don't expect them to strip off either. Unfortunately, birthday suits are illegal in Cambodia.
Don't be expecting flashy well decked out multimillion $ bars as you get in Bangkok & Pattaya. These bars are often single shop houses no bigger than a shoe box, relatively simple and resemble old school style beer bars that you would find in Thailand. Each bar has around 8-12 girls featuring beer bar games such as connect four, nearly all have a pool table (free to play), bars don't employ DJ's one of the girls is tasked with choosing songs from You-Tube off a laptop. They are great to hang out, drink beer, play pool and maybe find a cute Cambodian girl in.
Cambodian girls are different than their Thai counterparts in both looks and attitude. Khmer girls are much darker skinned, have curvier bodies and are carrying more up top than Thai girls — bolt-ons aren't needed on a Khmer maiden. Attitude wise the girls less battled hardened than Thai bar girls they have a much more laid back approach, are playful and fun to be around and lack the hardcore professional attitude of Thai bar girls.
If you have been to Thailand before you will notice that bar girls in Phnom Penh's red light districts are a little bit pushier than their Thai sisters. As soon as you sit down, you are surrounded by half a dozen or more girls all stirring at you hoping you select them to entertain you. Of course, you don't have to accept any of them, and you can politely decline and enjoy a drink alone.
Word of Caution! Unlike in Thailand, a girl you meet in a hostess bar in Phnom Penh may not go home with you, even if you bought her several lady drinks and offered her your wallet. This can fuck you right off if you are not used to it. If you do meet a Doris you like the look of, ask her if she goes with customers before you start throwing money about buying lady drinks. The first couple of times I visited Cambodia I wondered why some girls wouldn't go with me (not only because I'm an ugly fuck) but they are under no obligation by the bar to. Always ask before you get carried away saving the need for disappointment.
Typical prices of a hostess bar are: Beers 1.5-3.00 $, Spirits 2-4.50 $, Lady Drinks 2.50-3.50 $. The bar fine is 10 $ in all hostess bars in Phnom Penh. The bars don't usually have a set rate for short time/long time that's traditionally negotiated between you and your chosen lady. Typical short time rates are 30/50$ and longtime 50$+
Street 136
Secrets Bar – Located right in the thick of the action on 136 this newcomer to the Phnom Penh nightlife scene has blown the competition out of the water with a no expense spared bar/club. Classy fit out with an extensive international drinks menu all served up by sexy waitresses. Live international bands from the likes of the Philippines entertain the crowds six nights a week. More expensive than other bars in the area but you get what you pay for. Secrets wouldn't be out of place in any major city, anywhere! Also has its own hotel next door.
[ngg src="galleries" ids="17″ display="basic_thumbnail"]
Madame Butterflies – Situated on busy intersection butterflies is a great place to people watch from their outdoor terrace area which features a pool table. Inside a mezzanine floor contains numerous chrome poles for girls to strut their stuff, also above the bar is a podium for girls to dance. Too many cocks in frocks!
Mr Butterfly – Same owner as its sister bar located across the street much the same layout as its sister bar but more fun the music is loud and the bar has a wild atmosphere with girls dancing wildly on chrome poles which sit atop the bar. Outdoor terrace with pool table.
Tiger Bar – Another newcomer to street 136 Tiger Bar is a newly designed bar and is plush by Phnom Penh standard. Split into two halves to the left is the bar area and to the right is a bar/club area with tiger print walls with chandeliers and a central go-go style podium where girls shake their stuff to the booming music. Tiger Bar has an excellent selection of girls!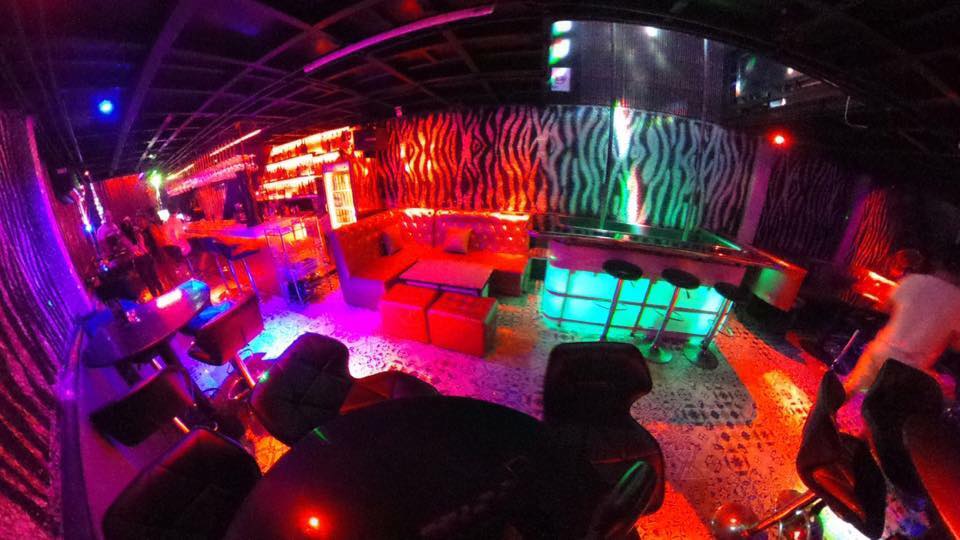 Candy Bar – Black walls, crap music, old guys passed out at the bar cheap beer welcome to Phnom Penh. This bar has been around forever, and it shows. Inside is a small stage for dancing as well as a chrome pole podium in the centre of the bar in which girls take it in turns to dance suggestively. Outside is a terraced area featuring an old worn out pool table and projector for live sports. The bar has a mix of girls and ladyboys no real lookers.
Drink Bar – A newcomer to 136 by PP standards this bar is big and well decked out. Nice plush fittings inside with comfy booth style sofas and several A/C units which work make this a great spot to cool off. Decent selection of Doris's on offer.
Corner Bar – known as the Biggest Hostess Bar in Phnom Penh. Customers can sit outside the bar while watching live sport show or just indulge in a spot of people watching. Inside, is fully air-conditioned featuring a long bar and dancing stage in the middle of the bar. Additionally, it has a KTV room on Floor 1 and free Pool table. On the first floor, there is a balcony area where you can sit and enjoy a bird's eye view of the crazy streets below.
Street 130
Sharky Bar – The old freelancer dive bar has undergone a much-needed transformation and looks fantastic. Swanky new fixtures and fittings added which include beautiful Chesterfield style leather sofas for guests to kick back and relax on. Multiple big screen TV's have been installed for sports fans as well as an extra pool table. Live music plays every Saturday night and an open mic night hosted on Sundays.
Intoxica Bar – Located right next door to Angry Birds. Intoxica is a single shophouse bar typical of most hostess bars in Phnom Penh. However; it was rammed full of Khmer cuties both inside and out. Inside the tunes were pumping, and the atmosphere was fun and friendly. TV's in the bar were showing live PL football.
Angry Birds – The bar with the attention-grabbing name. Thankfully the girls don't live up to the name of the bar. Average sized bar with a good atmosphere and friendly girls. Like most bars music comes courtesy of DJ YouTube. Good number of girls for such a small bar.
Honey Pot Bar – Nicely decked bar with a fresh, original optics shelf featuring a vast selection of international spirits. Nice comfy fixtures and fittings with mood lighting and chilled music. Chrome pole mounted atop the bar for girls to strut their stuff. A Bevy of beauties on offer for fun and frolics — relaxed vibe with no hustle from the girls seeking drinks.
Street 118
The Office – A step up from other bars in 118 The Office is a stylish lounge-type bar with a more upscale feel to it than its neighbours. The bar is spacious and well designed with comfortable seating, subdued cocktail bar lighting and raised podium above the bar for coyote style dancing. The bar has one of the best line ups of Hostesses in the city, but also one of the most expensive.
Green Room bar – Typical single shophouse bar with a non-assuming outdoor terrace. Inside, the bar is nicely decked out with a long neon illuminated green bar nice fixtures and fittings with tables and fancy stools as well as a comfy lounge area to kick back and relax. A podium sits above the bar for girls to dance on. At the back of the bar is a separate room featuring a pool table. Half a dozen girls with a couple of lookers.
Street 104
Bunny Bar – Once upon a time you were guaranteed a wild anything goes night out here — not anymore! The wild antics of the Bunny Bar of old have been replaced with a tame atmosphere.
Rose Bar ­­– Often touted as Street 104 best hostess bar like Bunny Bar its also seen better days no girls, no customers, no atmosphere.
Cambodia has come along way in a very short period of time. Yes, it's raw and ramshackle at times, but what it does have are charm and character in abundance, bargain prices and a laid back fun and friendly atmosphere. There has never been a better time to visit Phnom Penh — so what are you waiting for?