There is nothing more I enjoy on a Sunday afternoon than chowing down on a good old roast dinner then chugging back a few Changs, and rounding it all off with a soapy massage on my way home – beats lying on the sofa in your Y-fronts scratching your arse!
This Sunday I decided to visit Addicts Massage. Addicts is an old favourite of mine, and I recently heard it had undergone some changes, so I was keen to cast my beady eye over the establishment. Addicts is located just inside the entrance of Soi 24 right in the heart of Phrom Phong's "soapy suburb".
Location
If you're arriving by BTS take exit two from the station head down the stairway and look to your left as you descend the stairs you will see a hotel called 24 Inn. Here is a little hack for you: if you enter the 24 Inn and walk straight through the lobby to the back door, it will take you out onto a small L shaped Soi where Addicts is located. The small Soi contains several massage shops such as Club 102, Pink Massage, Mango Massage and EZ Massage. As you exit the hotel lobby Addicts is the first of the above establishments on the left-hand side.
One thing I like about Addicts is there aren't any girls congregated outside shoving som tam down their necks and cat calling out that horrific "massagggggeeee" between every mouthful Addicts seems to have a touch more class about it than its neighbours.
Inside
Upon entering the lobby I instantly recognise the changes that have been made by the management, the whole downstairs area has been given a much-needed makeover. The old drab décor of old is out, replaced with bright, contemporary décor and furnishings giving the entire lobby area a much more upmarket feel.
I plonked my arse down on one of the new sofas. Mamasang gave the bell a tinkle, within seconds a screen door rolled back and out marched 20 or so mattress actresses clad in Addicts rather sexy and revelling signature, old school air hostess uniform. Addict's website boasts of having 80 plus ladies available at any time, but I have never visited when there has been that number in attendance! Mamasang soon joined me at my side to answer any question I may have had regarding the girls and service etc.
Overall the line was excellent most of the girls appeared to be in their twenties, and a large number of them seemed to be sporting enhanced bolt-on's (boob jobs) great for all the lovers of big breasted beauties and the soapy massage experience. Once you have selected your mattress actress, she will accompany you over to the service counter and shown a short menu detailing prices & services etc.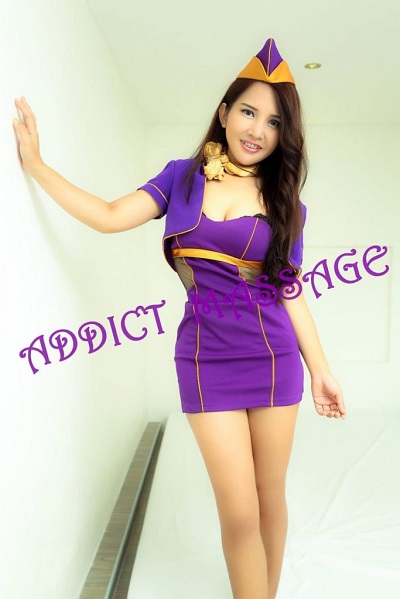 Prices and Services
You have two choices at Addict's either a "shower room" or a "Jacuzzi room".
Shower room: 60 minutes – 2100 Baht or 90 minutes – 2300 Baht
Jacuzzi Room: 60 minutes – 2300 Baht or 90 minutes – 2500 Baht
If you decide to opt for the shower room, you will receive an oil nuru body to body massage. If you choose to go for the Jacuzzi room, you will receive a body to body soapy massage. Addict's prices are full-service all-inclusive rates.
On my visit, I chose 90 minutes in a shower room. Once you have taken care of payment (I asked if I could pay by card although they said they had a card machine, but didn't accept foreign cards), you will be led upstairs to the maze of rooms. Tip for you: Let your companion go first up the stairs, you will get a great glimpse of what awaits you!
Rooms at Addicts
I've had the pleasure of frequenting both styles of rooms at Addicts before and it is down to personal choice which you choose. For me I just can't be doing with the hassle of getting in and out the Jacuzzi repeatedly so I always opt for the shower room — but that's only because I'm a lazy bone idol prick. If you're a lover of big boobs then I would recommend the Jacuzzi room, you can't quite beat the look and feel of having a girl with big soapy boobs writhe all over you.
The rooms are clean yet straightforward featuring mirrors and more beautiful than most on offer at other massage shops located in the area. Shower rooms have walk-in showers easily big enough for two. My room only included a small single bed, but who says you have to fuck on the bed?
The service
My chosen mattress actress had a fairly decent command of English so upon entering the room we engaged in a little standard small talk then she marched off to go get her "banging basket" informing me she would be back! I love it when a girl returns to the room and knocks on the door to come back in armed with her arsenal.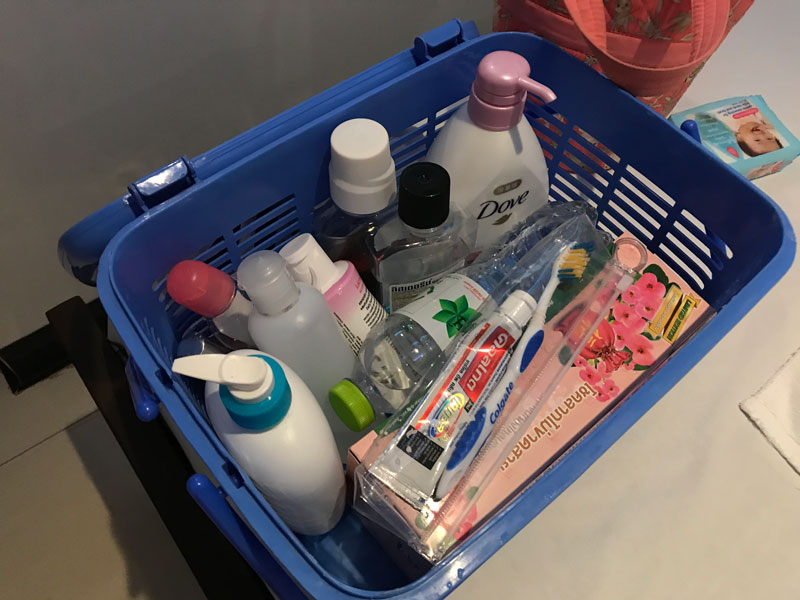 The full service at Addicts is standard to what is on offer in most soapy establishments — no kinky shit like pissing on your Doris in this joint! Full service will include the obligatory hot shower together, her washing me while playing with my dick, asshole and rubbing her tits against me. The shower at Addict's, in my experience always comes with a BJ (most masseuses will perform oral without a cover).
After the shower, it's on to the body to body massage. My mattress actress covered both herself and me with oil and proceeded to slide up and down my body grinding her tits and pussy against every inch of my body as I lay face down. She then asked me to turn over for more of the same only this time I got to see her arse and pussy as she slid up and down me some more, giving and receiving oral in 69 position.
Following on from the massage was the main event, and I wasn't to be left disappointed. All positions were on offer, and the mirrors in the room afforded some great action shots of my brown skinned beauty. After some vigorous mattress action sadly my 90 minutes was up!
During my visits, I have always received excellent service from various members of the Addicts team and this time was no exception. There isn't any clock watching at Addicts, and the masseuses who work there seem to take pride in the fact that their customers leave with a smile on their faces.
I have read other reviews on Addicts service, and they have stated that you only get one shot in your allotted time frame whether that be 60 or 90 minutes. However; I have never found this not to be the case. I have always had a minimum of two shots on my visits, and some girls have said I can go as many times as I can manage with the time permitted.
Verdict
Overall a great experience as usual. I have never been let down at Addict's and have always received excellent service no matter which girl I have chosen. A great line up of girls is still on offer together with clean and comfortable surroundings. Saturdays and Sundays can get extremely busy, so if you can try and head down there mid-week to get the pick of the girls.
Addicts use to have a great website http://www.addictmassagebkk.com/ featuring pictures of the girls and services on offer etc. However; it seems that the site is no longer displaying girls' profiles. I asked mamasang why the pictures had disappeared on my visit, and she stated that they had been ordered to remove girls profile by the authorities!
Addicts is open daily from 10:00 AM until Midnight seven days a week.