Pattaya is Thailand's naughty nightlife mecca and undoubtedly the best place to party in the Kingdom. Walking Street is like Soi Cowboy on steroids. Whether you're a naughty boy or not a trip to Pattaya's infamous Walking Street is a real attack on the senses and great fun. The coastal resort city has always been a popular weekend getaway for locals, expatriates and tourists, and located only 147km South East of the capital Bangkok. So if you want to experience a few days in "Sin City" what's the best way to get from Bangkok to Pattaya? We take a look at the differences between taxis, buses and trains.
Bangkok to Pattaya Bus
The two cities are well connected by Highway Seven (Motorway) and Highway Three (Bangna-Chonburi route). The most convenient place to catch the bus is from the Eastern Bus Station located right next door to Ekkamai BTS station (if you are arriving by BTS use exit number two and the bus station is located 100 or so meters on the same side as the exit).
Once you enter the bus station, you are confronted by numerous ticket booths selling tickets to various destinations. If you look to your right you will see a booth numbered 28 and displaying Pattaya and the fare of 108 baht. This is where you buy your ticket for the public bus the other counters located to the left are also selling tickets to Pattaya, but these are for minivans only – don't use these vans they are death traps! Also on the counter will be a time on a small board, this is showing what the next departure time is, and it will be this bus that you are buying a ticket for.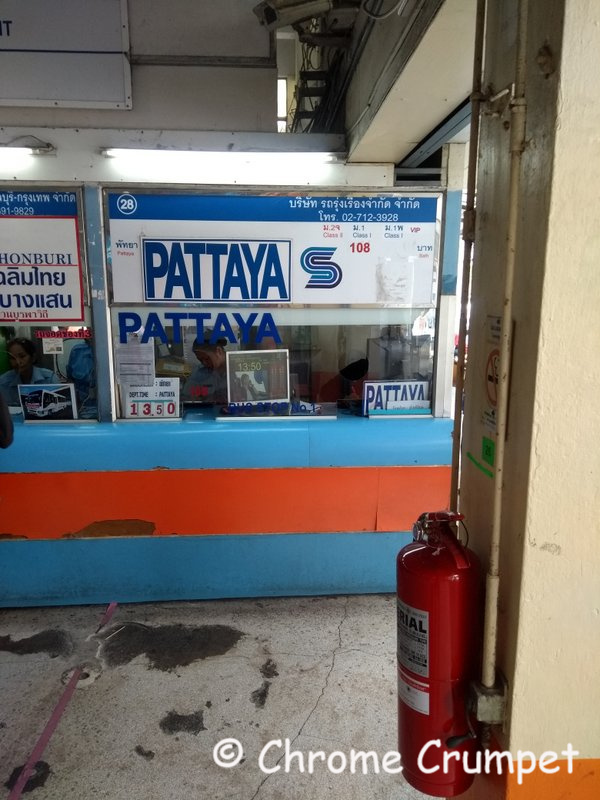 Once you have purchased your ticket walk through to the rear of the station towards the right-hand side and you need to locate stand number 1, this will say Ekkamai to Pattaya in English so you can't miss it. On the ticket, it will detail the departure time of your bus my scheduled departure was 13.50 I tried to board the 13.30, but the ticket clerk said you have to wait until your scheduled departure time you can't board this one. If you look below the Ekkamai to Pattaya departure sign there will be a sign hanging up showing the departure time of the next bus, so match this with your ticket, and you're good to go.
I have read people say that the buses depart every 30 minutes. However; when I took the journey the buses to Pattaya were leaving every 10 minutes. The official schedule states that buses leave every 30 minutes between 05.00 and 23.00.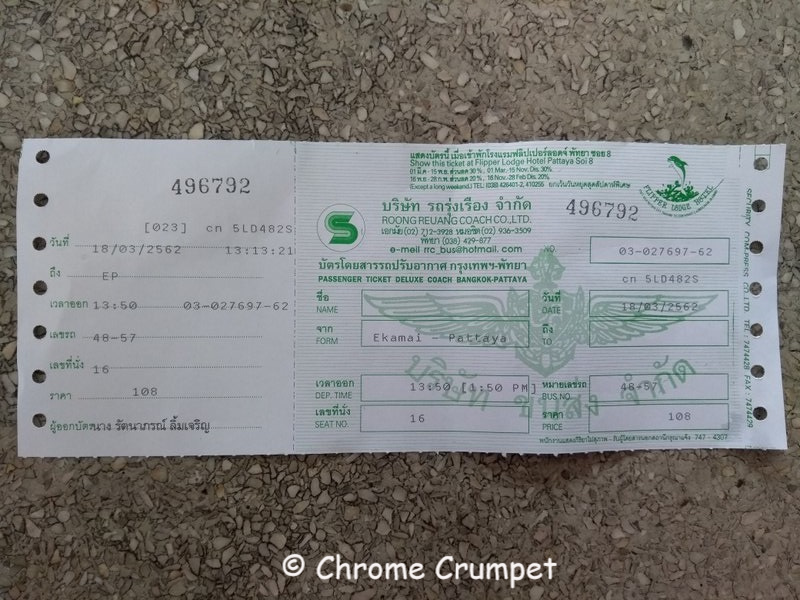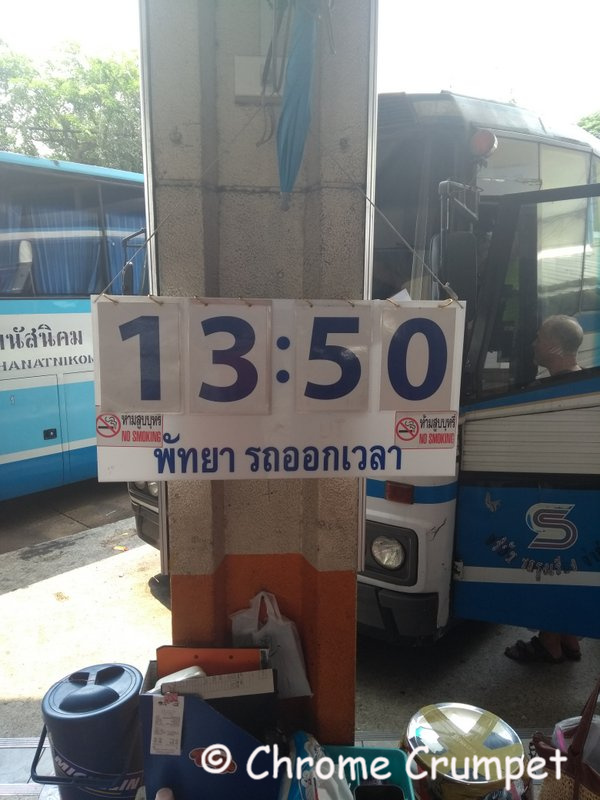 The trip to Pattaya should take around two hours, but times can vary considerably depending on the traffic conditions. As I said earlier, I left mid-afternoon, and the trip took just less than 2 and a half hours, which did include a quick pit stop just before arrival in Pattaya to refuel and take a toilet break or buy a drink and snacks etc. The bus was comfortable with plenty of leg room and nicely air-conditioned.
One thing to consider is that the buses arrive into Pattaya's Southern Bus Station so if you're planning to stay in central Pattaya, you will have to arrange further onward travel from the bus station. I took a motorbike taxi into the Soi Buakhao area, and it cost me 100 baht.
Taxi
Travelling from Bangkok to Pattaya or vice versa is by far the most convenient option, and you can't match a cab for door-to-door service. This convenience comes at a price, and the fare for a private taxi as you can imagine is significantly more than the public bus, but when you consider the convenience its often worth paying the higher fare.
I made the return trip from Pattaya to Bangkok. I booked through my hotel and was quoted a flat fare of 1400 without the meter which is the official fare. Just out of interest I asked the driver to run the meter so I could see what the fare was in comparison to what he quoted and it came in at 1381 baht, plus toll fees of 105 baht!
The journey took less than 2 hours from Pattaya to central Sukhumvit which included a quick pit stop for a toilet break and a quick snack.
Train
If you aren't a fan of transport on rubber wheels, then there is a train service which operates between Bangkok and Pattaya. Departing from Bangkok's Hua Lamphong train station twice daily. The first train is the fastest service, train #997 departs at 06:45 and scheduled to complete the journey in 2 hours 28 minutes. The second slower train #283 departs at 06.55 and planned to complete the trip in 3 hours 39 minutes. Both trains are often delayed on the route, and you should allow at least 1 hour for delays if you are arranging any onward transport from Pattaya. Tickets cost 140 baht for first class, 72 baht for second class and 31 baht for third class. The easiest way to reach Hua Lamphong train station is to take the MRT to Hua Lamphong.
For more info on Thai trains check out State Railways of Thailand website