Billboard has long been touted as Bangkok's number one go-go bar with both expats and naughty nightlife visitors to The City Of Angels — and rightly so! You would have to have severe powers of persuasion to convince most people that Billboard wasn't top dog as far as go-go bars go in Bangkok.
The argument has long raged about what constitutes a great go-go. In my opinion, it's the following: hot girls, great music, cold beer, fast & friendly service and a fun atmosphere. Billboard ticks all the boxes.
On the weekend there can be north of a hundred hot girls, dancing away to great tunes (no car crash Thai techno as Stickboy likes to call it), the beer is cold, served by friendly staff and the atmosphere is always a fun one.
However; there may be one bar in Nana Plaza that could be a set to rival Billboard for the coveted crown of 'Bangkok's best go-go'. That bar is none other than Spanky's located on the middle floor of Nana Plaza.
From the minute you are greeted by Spanky's hot PR chicks, armed with their signature foam batons ready to give your arse a playful whipping to entice you through the door, you know you're about to have a good time.
Spanky's is a medium-size go-go bar nothing on the scale of Billboard. Featuring a central stage surrounded by tiered seating which offers excellent views from all locations (except behind the shower). Yes, that's right Spanky's has its very own shower cubicle. If you're a fan of hot, soapy, topless babes, you're in for a real treat! What Spanky's lacks in size it more than makes up for it with its personality.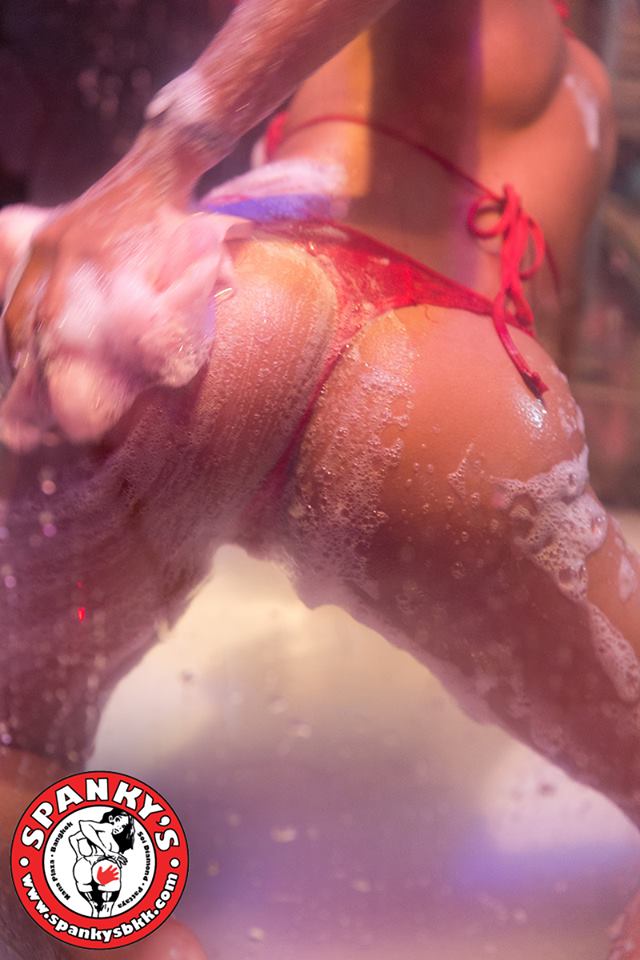 Nicky, the manager, is a young guy full of energy and enthusiasm, and loves to party! Nicky's larger than life character has rubbed off on all his staff, and Spanky's is the ultimate party bar with the emphasis placed on having — fun, fun, fun!
You won't find any moody mamasans here nor will you suffer any sulking service staff slamming beers down in front of you with nothing but a scowl, in Spanky's service comes with a genuine smile. The beer is always chilled to perfection, and the tunes are the kind that makes you want to get up on the stage and move your feet.
Speaking of stages', Spanky's stage is packed full of hot dancing Doris's with no sign of the sky train shuffle nor are they propped up against a chrome pole complaining to their sisters that last night's som tam was too spicy, like you seen in many go-go bars nowadays. The girls are genuinely having as much fun on stage as the guys are sat watching them.
One thing that sets Spanky's girls' apart from other go-go bars is their enthusiasm and interaction with customers. They generally have a fun and flirty attitude, and are more than happy to play around with you, giving you a good lashing with a foam baton rather than the money driven 'you buy me drink brigade'.
Spanky's is also famous for its stage shows the bar hosts many highly choreographed shows performed by a select few of the bars hottest girls between rotations. Such displays include an American themed beach show featuring surfboard and beach balls played out to "The Beach Boys-Surfing USA", a raunchy lesbian cucumber show and a hot pole dancing show containing plenty of chrome pole action.
People often complain that the go-go bar scene has gone 'stale' and I would mostly agree with those statements. Most bars simply think they can turn up, turn the lights on and the customers will keep coming. However; Spanky's is proving that done correctly the go-go concept still has a lot to offer nightlife visitors to Bangkok and isn't quite finished yet as many pessimists' would have you believe!
https://www.facebook.com/SpankysAGoGo/