It's often said that the Bangkok beer bar season heralds the start of the cooler weather in the Land Of Smiles permitting the locals to indulge in a spot of alfresco drinking without fear of the night turning into the usual sweat fest. However, this was not the case on my visit to the outdoor beer garden located at Central World. It was an unusually warm winter evening in Bangkok, and by the time I had battled my way from Chitlom BTS through the hordes of tourists, beggars, and screaming brats I was a hot and sweaty flustered shell of a man. Thankfully I had come to the right place, half a dozen beer establishments lay before me.
Bangkok's outdoor beer gardens run at Central World right through Christmas until New Year, and open every night from 5 pm until midnight, admission to each of the different areas is free and live music is featured heavily every night to help get the party into full swing.
 Located outside in front of the Central World shopping complex the branded beer gardens offer more than a typical Thai beer garden with big budget setups that contain outdoor seating, full concert style music stages with big screens TVs and lots of lovely cold beer for visitors to enjoy.
The beer garden contains domestic beers Chang, Singha, and Leo as well as offerings from European favourites Heineken & Federbrau. Each brand has its own designated area this year at Central World.
Heineken Beer
A classy looking set up from the Dutch beer brand Heineken who have opted for a contemporary look with lots of bright white fixture and fittings mixed in with its signature green branding. As with all the beer gardens, entry is free and live local bands play on a nightly basis mixed in with banging house/trance music in-between the live acts. While you're here check out the huge mirror outside the Heineken beer garden, it was the star attraction on our visit with hoards of locals grabbing the chance to take a selfie with the backdrop of Christmas decorations at Central World.
Chang Beer
Thailand's number one beer brand Chang presents this year's offering "Chang Sensory Trails" the venue will feature live performances from some Thailand's most prominent names in rock and pop, plus plenty of drinks promos. No expense has been spared by Chang creating what is possibly the biggest of this year's offerings and features heavily with Chang branding. Not only is Chang the biggest of the beer gardens upon our visit it was also the busiest.
Federbrau
A relative newcomer to the beer garden scene but don't let this fool you. Federbrau has brought the urban alfresco party to life with great branding and a superbly designed offering. The German-inspired beer brand offers delicious food and live concerts by indie and top Thai artists as well as their signature single malt beer in the heart of the Thai capital.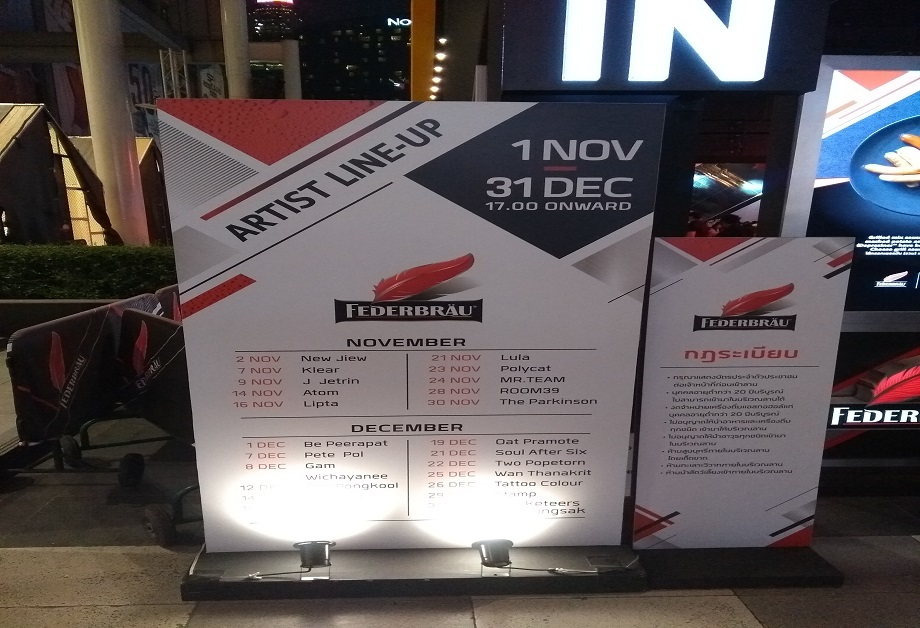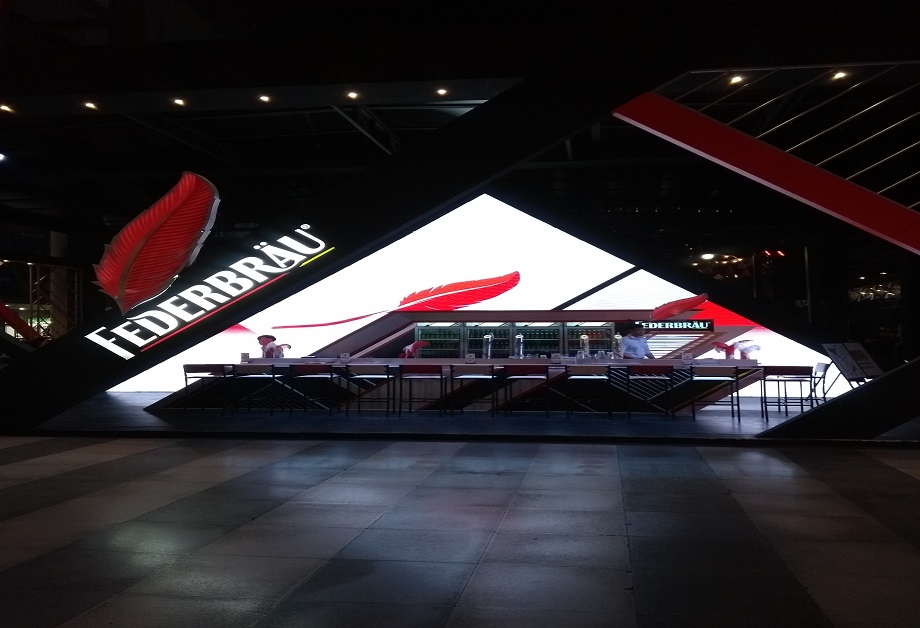 Best of the Rest Singha & Leo
Thailand's second most popular beer Singha also has a presence at the beer garden with a superbly designed set which features a vast concert-style stage incorporating two substantial TV screens which allow visitors to watch football while enjoying a cold glass of Singha. People visiting Singha Beer Garden have a wider choice of beers as this beer garden is shared by Singha and the beer of its subsidiary company – Leo.
How To Order Beer at Central World Beer Garden
At most beer gardens, it's as simple as sitting down and ordering from a waitress, who will bring you the beer and present you with the bill to be paid immediately. At the more popular beer gardens like Heineken, it's often difficult to get a table so you may have to wait a long time to be seated or may be turned away and asked to come back another night.
Getting There
Getting to Central World is quite easy, hop on the Skytrain and head for either Chitlom or Siam stations. Central World is located halfway between the two so you can't go wrong with either station, once off the Skytrain follow the signpost for Central world.