Soi Cowboy, Nana Plaza, and Patpong are undoubtedly great places to enjoy a fun-filled night out while in Bangkok. However; the novelty of these places wares a bit thin — eventually. Especially when you get stuck with down and out expats in western bar areas who feel compelled to tell you their tragic life story; whether you want to hear it or not! Many an expat and visitor to Bangkok never venture very far from the westerner dominate nightlife hotspots — and this is a real shame.
How about going native? Enjoying a night out Thai style? Thai's certainly know how to let loose and enjoy themselves— an experience many foreigners sadly miss out upon. The Bangkok of yesteryear was once littered with Thai style beer bar complexes' where a more 'native' night out could be experienced. Sadly many of these establishments have since made way for high rise developments, but thankfully some do still exist in and around Bangkok.
One such establishment that is still alive and kicking today in Bangkok is 'Co-Co Walk' nestled right underneath Ratchathewi BTS station. Co-Co Walk is a typical beer bar area regarding construction: a simple structure open on all sides and covered with a corrugated sheet metal roof. Housed inside is a small Soi of pubs, bars and restaurants, which line either side of the building. Lying within the interior of the complex are rows of tables and chairs (each bar, pub, and restaurants' has its own designated outdoor seating) allowing for alfresco dining and drinking.
Co-Co Walk is perfect for those who are seeking an introduction into the 'real Thai nightlife' and want to jump in head-first. On offer is live music by local Thai bands singing a variety of Thai songs, mixed up with some classic covers in-between. The outdoor area offers a chilled out vibe with cheap beer on offer to help get the party started, (beer towers seem to be the choice of the locals). Some of the bars feature pool tables, live sports, and one bar even has its own half pipe located outside — if you fancy indulging in a spot of skateboarding after a few cold ones!
As you enter, you are free to walk up and down between the bars and restaurants at your leisure. You won't hear a 'hello welcome' here; you're left alone without any hassle from hawkers that you find in the lower Sukhumvit area. With so many bars to choose from how do you pick one to start your bar hopping night? Some simply select a bar they like the look of, some pick a bar because they enjoy the style of music, or others pick a venue because its full of hot ladies — on our visit there were some super sexy females enjoying a night out with friends. Here are a couple of bars to start your night at:
Chilling House
This establishment is located in the far right-hand corner as you walk into the complex. The name of the venue suits the atmosphere here its laid back, chilled vibe is the perfect place to start your night, (Chilling House is possibly the trendiest bar at Co-Co Walk and has been fitted out to a high standard). Grab a table outside kick back in one of the comfy chairs and indulge in a spot of people watching while sipping away on a nice cold pint of Hoegaarden.
Skate Café
Skate Café has a fresh, hipster vibe too it. The bar is decked out in funky décor featuring built in neon lighting which gives the bar a contemporary feel. The bar is skating mad, featuring furniture made from skateboards, and doorknobs made from skateboard wheels. Located outside is a pool table and half pipe ramp — yes that's right the bar has its own skate ramp! The crowd here is mostly hipsters and cool Thai university kids.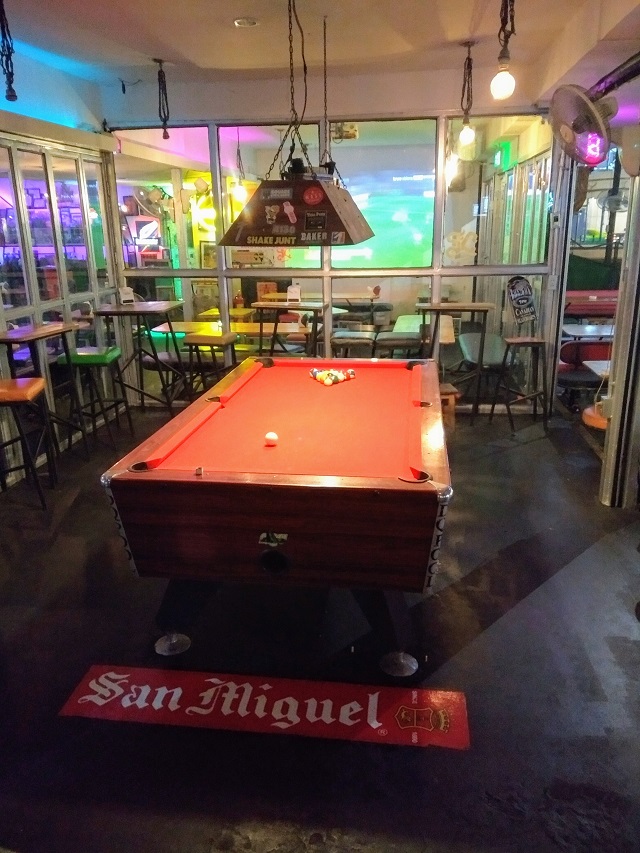 These are just two of the many bars on offer at Co-Co Walk so why not head down there and take a look for yourself. Co-Co Walk is no five-star establishment by any stretch of the imagination, but what it lacks in style it makes up for in substance. A chilled out, friendly, fun atmosphere awaits. Thrown in with super-hot Thai girls and you're in for a good night all-round.