Dog Step is a small neighbourhood craft beer bar located on Sukhumvit Soi 50 nestled within Beacon Place, a little entertainment complex comprising of a dozen or so establishments arranged around a pedestrian area featuring outdoor seating. Alongside Dog Step, the Beacon is also home to Cheap Charley's (a Bangkok legend for cheap drinks), Rolling Stone Pizza and even a Bad Burger restaurant.
Dog step is a Thai owned and managed bar, tiny in size with both an indoor area and outdoor terrace. Inside there is seating for maybe 10-15 guests and around 20-25 outside. The décor and furniture are simple but practical. The bar is all black inside (featuring a giant robot on one wall drinking a beer) and complemented by fixtures such as lighting and shelving made out of discarded metal water pipes giving Dog Step a modern industrial vibe.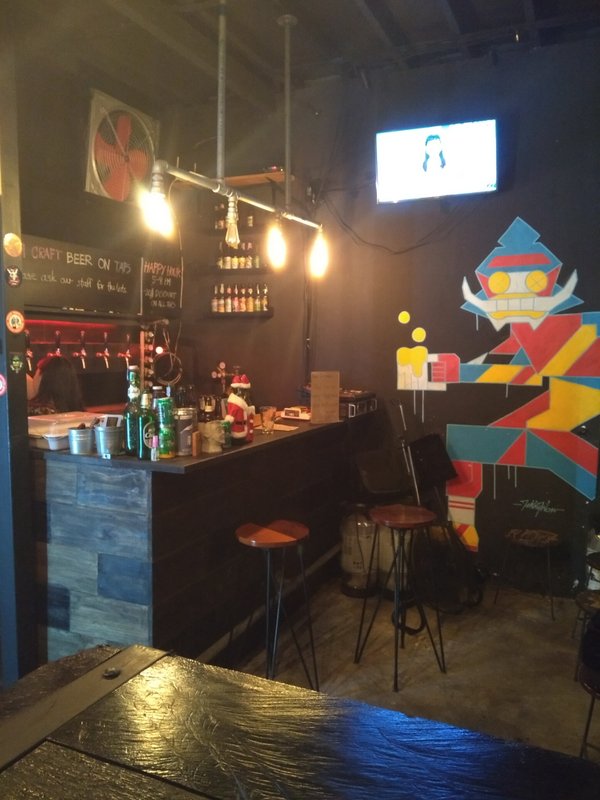 However; I wasn't here to admire the fixtures and fittings, I was here for one thing and one thing only — the beer! Dog Step has six taps on offer on any given day, which change on a constant basis. On my visit, these were the refreshing beers on offer to tantalise the taste buds.
I opted for Tap 1 — Outlaw West coast, Pale Ale 6.9% and Tap 2 — Outlaw, Blonde Pale Ale 5.5%, both priced at 260 Baht. Both beers were exceptional (and if it wasn't for the fact I was short on time) I would have stayed to sample all 6 of the taps on offer.
Alongside the offerings on tap, Dog Step also offers around 40-50 beers in bottled and can form. Located next to the bar rather than behind it (which is a wonderful idea as allows customers to browse the beers) is a double beer cooler housing beers from around the world. The 40 or so beers are made up from Thai artisanal and imported Thai expatriate beers – but also some Belgian beers and German Weizen beers. Alongside Brewdog Punk IPA, Lost Coast Indicia, and Ballast Point Big Eye available.
The pick of the bunch for me was:
Stone — Delicious IPA, 7.7%, 250 baht per can
Ballast Point — Manta Ray Double IPA, 8.5%, 280 baht per bottle
Rogue — Hazelnut Brown Nectar, 5.6%, 250 per bottle
The only criticism I can levy against Dog Step is that the beer selection was a bit heavy on the IPA and light beer offerings. A few more dark beers added to the collection would give Dog Step a well-rounded selection of beers for all customers to enjoy — no matter what their beer preference. However; for a bar of its size it certainly offers an extensive menu for the beer lovers of Bangkok.
Dog Step is openly nightly from 5 pm – 12 am.