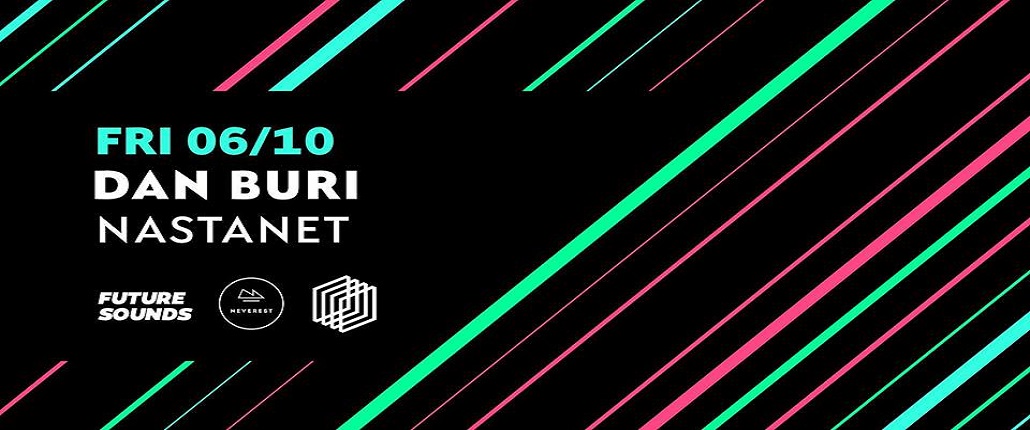 FUTURE SOUNDS: Always Quality, Actual Music Сontent and a Friendly Atmosphere.
————— LINE-UP —————
———— BIOGRAPHY ————
A late night juggernaut responsible for the proliferation of techno in Bangkok, Dan Buri is like the city having its own Berlin resident DJ at its helm. His German upbringing reverberates in the brooding yet melodic soundscapes that he plays but his Thai roots lend him a more lighthearted approach to everything that he does. In fact, whether he's playing deep and undulated techno or organic tech house, his legacy in the city is defined by his high-octane performances and an unparalleled ability to engage and connect with the crowd. Notorious for pushing boundaries into nonexistence, Dan has crafted a career out of fusing together his many worlds in seamless and syncopated harmony.
Career defining moments come from sharing stages with artists like Sven Väth, Dubfire, Joris Voorn, M.A.N.D.Y, Booka Shade and Azari & III, as well as playing some of the world's most revered clubs like Tresor, Sisyphos, Time and Kyo. His current trajectory stations him in Europe for the summertime, regularly coasting through countries like Germany, Switzerland, Austria and France, while winters are spent in the warmer regions of Asia where he is bastion of its underground music culture. But regardless of where you find him, you will find his dance floor moving, bruising and sweating. Fired by passion and fueled by boundless energy, Dan exudes positive vibes and the mark he's left on Bangkok's underground music scene is both impactful and infectious.
Finding that his production prowess had gone to the next level after linking with Bla Bla Music founder Daniel Sanchez, Dan found inspiration in Bangkok's relentless afterhours affairs and finally breathed life into his own imprint. Aptly named Neverest Records, Dan has been questing tirelessly to create a family amongst Asia's DJs and producers and build for the region a platform for sharing and connecting, not just within Asia but also with the world – always spreading the after party ethos upon which Neverest was built.
???? https://soundcloud.com/dan-buri
https://www.facebook.com/DanBuriArtistPage/
DJ Nastanet – aka Anastasia Rudachenko – graduated from the Piano Department of a Music School. She has the diploma "Ballet dancer – Bachelor of Arts". She's also graduated from the Moscow School "Audio" under Funk D'Void, Tom Craft, etc. A participant on projects including: KaZantip Festival (Popovka UA), Barbarella Club (Moscow), Gagarin Project (Moscow), Glow (Bangkok), Safe Room (Bangkok), Nest (Bangkok), Sapphire Club (Bangkok), Thai Lounge (Pattaya) and many others, she's now living and working in Bangkok.
With over 10 years' experience DJing, Anastasia has a clear vision of the World Club Music scene and while enjoying a cultivated taste, she monitors fashionable music trends that will be exhibited before you on the night!
???? https://soundcloud.com/dj-nastanet
https://www.facebook.com/djnastanet/
What are you waiting for? Click attending now and get involved!
————— DETAILS —————
➜ COVER CHARGE:
FREE – before midnight
200 THB + 1 drink – after midnight
Free tequila shot to everyone who joins us before midnight! ????
The 10th and 20th guest, will also receive gift certificates for a flight at the Flyboard Club (Bangkok)
➜ DOORS:
10.00 PM – 3.00 AM