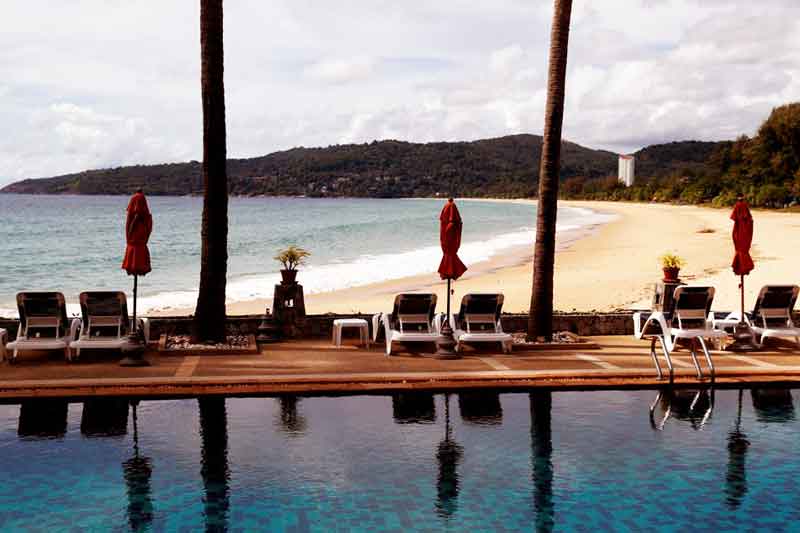 An empty hotel and beach which have opened for visitors are seen in Karon, Phuket Island, Thailand March 31, 2021. The picture was taken on March 31, 2021. REUTERS/Jorge Silva/File Photo
In a bid to win tourists back to Phuket, the Tourism Council of Thailand (TCT) has proposed a 'One Night, One Dollar' campaign, which would see hotel rooms available for just $1.
Under the proposals, foreign tourists visiting the island would be offered rooms from just $1 per night. The rooms available would normally be valued between 1,000and 3,000 baht per night, with the rest of the cost being subsidized by the government.
Phuket has approximately 70,000 rooms with nearly one million room nights being made available during the campaign, TCT president Chamnan Srisawat told Bangkok Biz News.
If successful, the campaign could generate 40 billion baht for hotels in Phuket throughout July.
Online travel agents and major travel wholesalers have already been made aware of the campaign, which is expected to be formally approved by the Tourism Authority of Thailand, the Ministry of Tourism and Sports and the cabinet later this month.
If the  'One Night, One Dollar' campaign proves successful in Phuket, it may be expanded to other destinations later in the year, namely, Pattaya, Koh Samui and Bangkok.
The news comes as Phuket is preparing to re-open to vaccinated foreign tourists from July 1.
Mr. Yuthasak Supasorn, TAT Governor, said, "All of us at the Tourism Authority of Thailand share the excitement and anticipation of everyone in Phuket in the preparation to welcome back foreign tourists in the not-too-distant future. From 1 July 2021, vaccinated foreign tourists will be allowed to visit Phuket without quarantine, so the countdown starts now to the reopening of Phuket!"
The reopening of Phuket is dependent on 70% of the island's population being vaccinated against COVID-19.
However, Phuket governor Narong Woonciew last week revealed that Phuket is well on course to reach its vaccination target, with 50% of the island having already been vaccinated.
Mr Narong said that if all the people registered are vaccinated as planned, then 65% of the island will have been vaccinated.
A final drive inviting the remaining people to be vaccinated will take place over the next two weeks.
https://forum.thaivisa.com/topic/1219090-international-tourists-to-be-tempted-back-to-phuket-with-hotel-rooms-for-just-1/?utm_source=newsletter-20210602-0538&utm_medium=email&utm_campaign=news