If looking for a gut-busting, wallet-friendly Sunday Roast in Pattaya, then look no further than Nicky's Bar & Restaurant. Located on Soi Buakhao, on the same side as Pattaya City Hospital and just past the junction with Soi 15, this unassuming establishment knocks up one hell of a Sunday treat for roast lovers.
Nicky's restaurant has been delighting visitors and expats off Pattaya for over 15 years with good home cooked food — especially its legendary Sunday Roasts! Nicky's is a typical British style restaurant/bar which can accommodate around 40 or so dinners. The restaurant features simple whicker style tables and chairs laid out in simple, yet nicely air-conditioned surroundings. As the name suggests, Nicky's Bar Restaurant also features a fully stocked bar located opposite the restaurant area. Various TV's play sporting events for diners to watch while awaiting their food orders. If watching sport isn't your thing you can always enjoy a game of pool on the table located in the bar area.
Nicky's menu as you would expect consists heavily of traditional British fare, such as beer battered fish and chips, giant Yorkshire puddings filled with sausages and oven baked cottage pie amongst many others.
However; seeing as it's a Sunday the only thing on my mind was a nice big fat roast dinner. I arrived shortly after 1 PM and greeted by friendly and attentive staff (with the size of the bar I was impressed by the number of staff in attendance) who ushered me to a suitable table. As I traversed the tables I could see everyone was tucking into a Sunday dinner — maybe the tales I have heard about Nicky's being the best Sunday spread in town were true.
As far as the roast itself there are a variety of meats available from chicken, pork and lamb (see menu below for full details).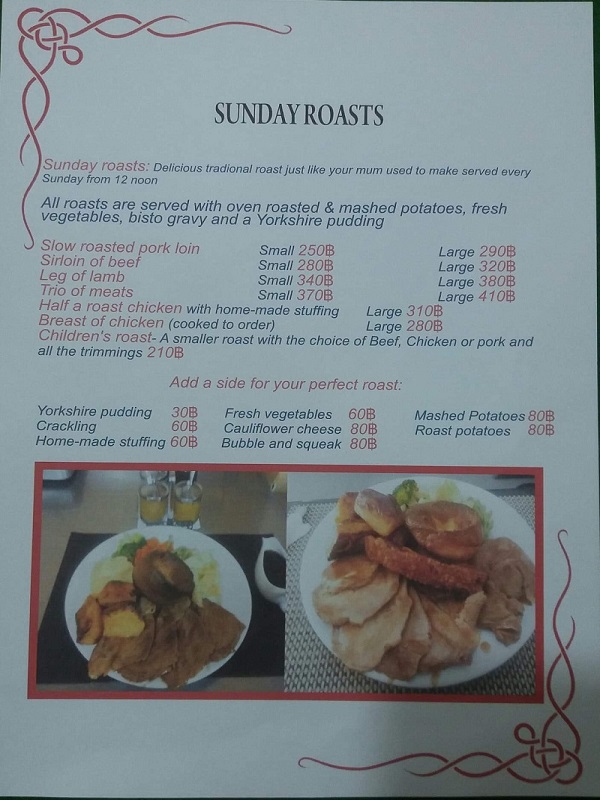 I plumped for the large Slow Roasted Pork Loin, washed down with my daytime favourite tipple of soda water and Red Bull mixed in a pint glass with ice. You wouldn't believe how many service staff can't get this drink combination right! No such problems at Nicky's the waitress spoke excellent English and understood exactly what I was asking for; my drink swiftly arrived precisely how I had asked for.
By the time I was no more than halfway through my drink the kitchen door swung open and out walked a member of service staff struggling to carry an oversized plate loaded full of England's finest Sunday fare. As the waitress lowered the plate onto my table, my eyes widened, and my mouth instantly started to drool as my nostrils filled with the aroma of a home cooked Sunday dinner. The feast that lay before me contained: Roast Pork plus crackling, roast potatoes, a selection of mixed vegetables, mashed potatoes, Yorkshire pudding, stuffing and the all-important boat of gravy completed the scene.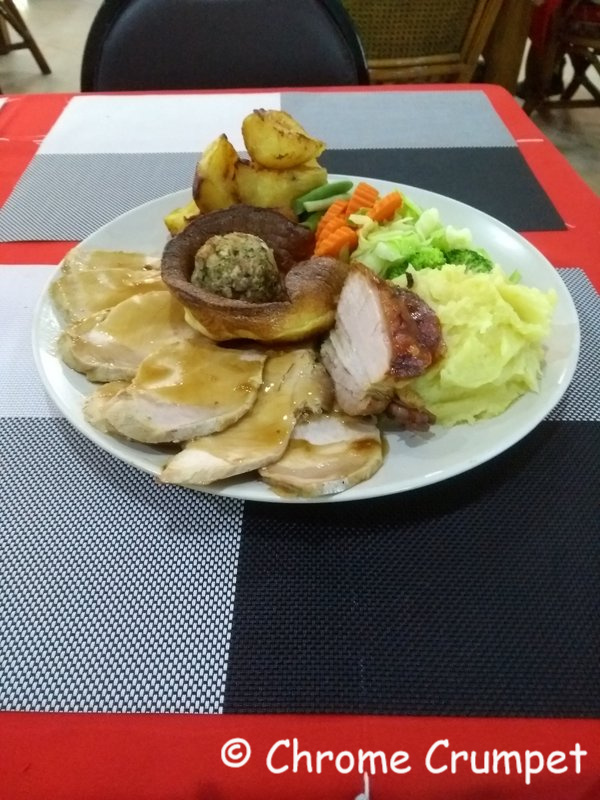 Whenever I see a vast meal I always worry that quality is compromised over quantity — at Nicky's, I needn't have worried! The roast pork which can often be dry and tasteless was cooked to perfection and wonderfully succulent; accompanying the roast pork was pork crackling which had a perfectly golden crunchy outer exterior covering melting layers of flesh. The mixed vegetables were well cooked with good flavour and plenty of bite, roast potatoes had a crisp outside while still maintaining a light, fluffy centre, and the mashed potato made of real potatoes that had a creamy texture to them. Finally, the Yorkshire pudding was firm on the outside but light underneath, all finished off with a gravy that was perfect in consistency neither too watery nor thick.
Verdict
If you fancy a Sunday dinner in a pleasant, friendly, efficient and comfortable environment while in Pattaya I would highly recommend Nicky's. Yes, it may not be the cheapest place to sample a Sunday roast, but in my opinion, it's the best offering I have had in Pattaya if not the whole of Thailand for the price range.