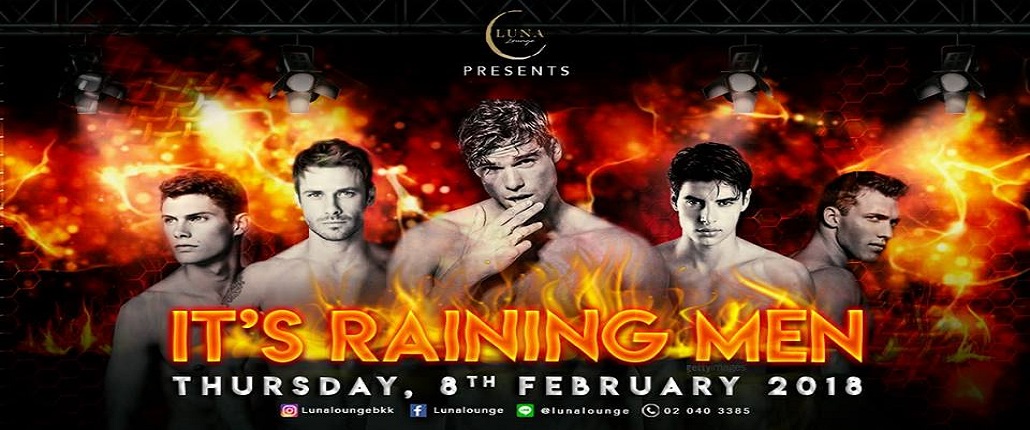 ???? IT'S RAINING MEN ????
THURSDAY, 8TH FEBRUARY 2018
LUNA LOUNGE, SUKHUMVIT 22
FREE ENTRY BEFORE 10 PM
FREE ENTRY FOR MEN ALL NIGHT LONG
300B WITH 1 DRINK FOR LADIES AFTER 10 PM
Hey Ladies! It's your turn to party and be a little naughty! Luna Lounge is bringing you the sexiest, flirtatious party to Bangkok.
Now it's your turn to let your hair down, dress as sexy as you dare, enjoy the show and dance the night away surrounded by our Hot Men while allowing our topless butlers to tend to your every need.

Gather your friends together and treat yourself to a party to be remembered and talked about.
✮ PRIVATE DANCE FOR VIPs ✮
???? EXTRA NAUGHTY PACKAGE ????
Capacity 7 – 10 guests. Min spend: 15k
???? LITTLE NAUGHTY PACKAGE ????
Capacity 4 – 7 guests. Min spend 11k
✮ ABOUT LUNA LOUNGE ✮
Bangkok's Hidden Cocktail Bar LUNA Lounge Illuminates Sukhumvit Soi 22 Neighborhood.
Luna Lounge is a hidden cocktail dance venue supported by weekly live entertainment and promotions, LUNA lounge proposes a cocktail experience both physical and emotional. There's always something to do in Bangkok- do it at LUNA!
✮ STAY CONNECTED WITH US ✮
Facebook: https://www.facebook.com/lunaloungebkk/
Instagram: https://www.instagram.com/lunaloungebkk/
Line: @lunalounge or click ▸https://goo.gl/xuRdQq
For more information or table reservations contact:
+662 040 3385 or send us an Email to manager@lunaloungebkk.com
See you on the dance floor! 🙂
☾♥ Luna Lounge Team ♥☽