Raw Comedy night hosted at the Live Lounge (Sukhumvit Soi 13 above the Sportsman pub) is a great night out if you're looking for piss your pants laughter in Bangkok. Raw Comedies 'Open Mic' nights offer something a little different from other nights in Bangkok's vibrant, up and coming comedy scene.
The venue itself Live Lounge is a small intimate comedy club housing a central stage with rows of bar tables and stools located near each other to give a tremendous close-knit atmosphere.
Waitress service is on offer, and you can get food at your table, with a decent selection of snacks such as nachos, and other pub classics. A fully stocked bar featuring craft ale, Brew Dog – Punk IPA at 250 Baht a pint served alongside all the usual beers at 150/170 a pint.
Hosted on a Wednesday night by two North American guys Justin & Chris Raw Comedy is an open mic format. For those who you who don't know, an open mic event is a chance for aspiring comics to get some stage time and practice their routine in a live setting, or for seasoned comics to test new material.
Admission is just 100 baht to the event which puts amateur comedians to the ultimate test, trialling their comedy talents. It's difficult not to cringe as hopeful contenders take to the stage attempting to win the laughs of the room, with many facing disenchanted eyes glaring back – but as the saying goes: everyone has to start somewhere. The raucous event isn't for the faint-hearted, calling into question whether competitors have what it takes to break the world of comedy.
What does it take to be a comedian? Stage confidence? Witty act? These are all questions that the Raw Comedy night seeks to answer.
The show hosted by Tim Erdlen who kicked things off with a quick, witty routine to warm up the expectant crowd. Speaking to Justin before the show he said: we have some great acts tonight, some ok acts and some well … not so ok acts too — and this was a fair assessment.
A range of comics each took their turn on stage and was given 5 minutes to make the audience piss their pants with laughter or crash and burn at the altar of comedy. As Justin had previously stated some of the participants were funny while others were embarrassingly bad. Justin himself was one of the more entertaining acts to showcase his routine, and delivered a genuinely funny and witty performance. His laugh out loud routine featured jokes and observations about travelling on the BTS, alongside jokes from stories about his days teaching in Thailand.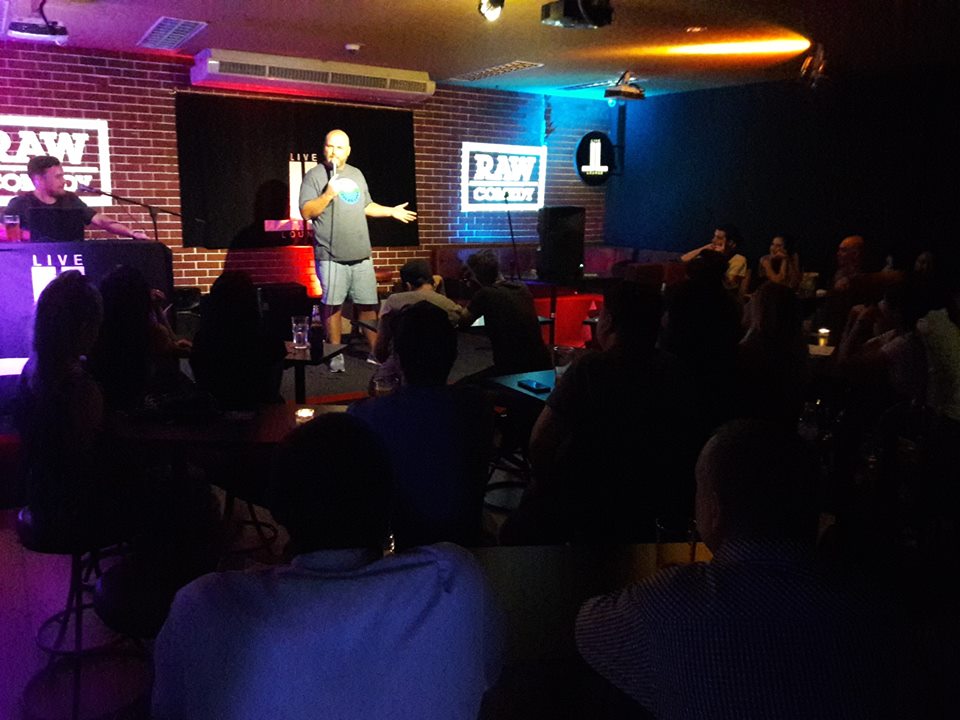 The best of the rest were acts from Sarin Suriyakoon (billed as Thailand's only English speaking comedian) who was more hilarious for his stage presence than his actual jokes, and an off the cuff routine with some risky gags from a Thai/Chinese female comic who I thought was excellent.
Overall the Raw Comedy night was great entertainment. For 100 Baht admission it's clear that the organisers aren't in it to make money they do it out of their passion for comedy. If you're seeking a laugh out loud evening on an otherwise dull Wednesday head down to the Live Lounge for a night of fun and laughter with the Raw Comedy crew.