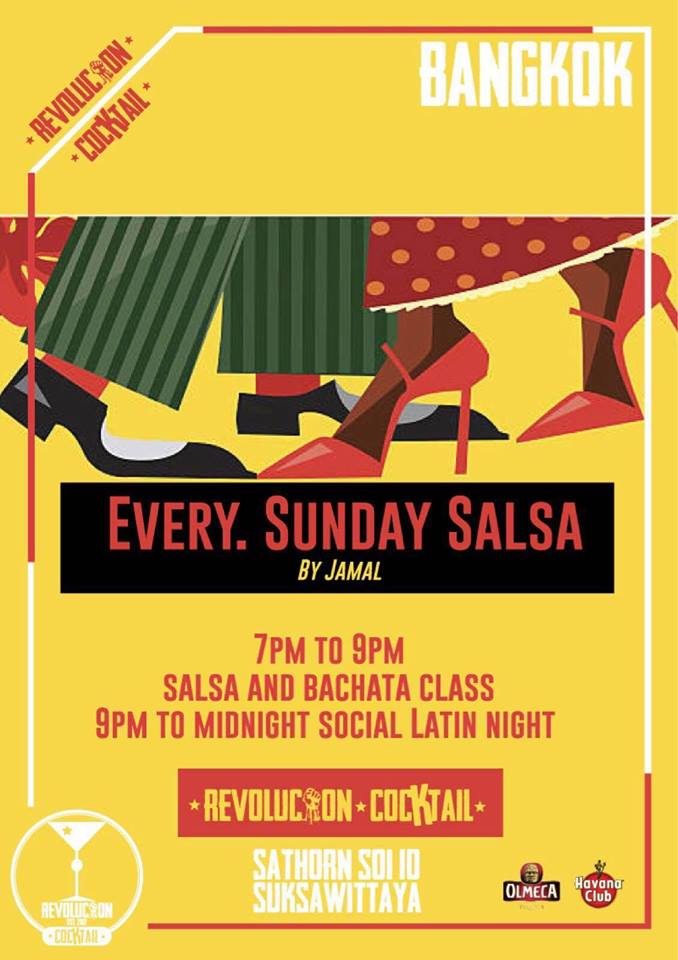 Dance to Latin rhythms! Feel the Latin rhythms deep in your body! Elevate your Spirit! Connect with yourself and your partner! Connect as one person! Let the Power of the Latin rhythms Heal You!
Come one, come all, join us at Sunday salsa paradise Latin social Party & open classes on every Sunday at Revolucion Cocktail Bangkok
FREE PARTY ENTRANCE FEE & FREE SALSA BACHATA CLASS!
AT 7 PM SALSA ON 1 LA STYLE CLASS ALL LEVELS WITH SJ.
AT 8 PM SENSUAL BACHATA CLASS ALL LEVELS WITH SJ.
BEGINNERS & EXPERIENCED DANCERS CAN JOIN.
FROM 9 PM UNTIL MIDNIGHT LATIN SOCIAL PARTY WITH FUN FUN LINE DANCE!
NO PARTNER NEEDED!
YOUR FRIENDS WILL BE THERE!
DJ SJ CAN*T WAIT TO SPIN HIS BEST LATIN TUNES COLLECTION: SALSA BACHATA CHA CHA KIZOMBA ZOUK MERENGUE REGUETON