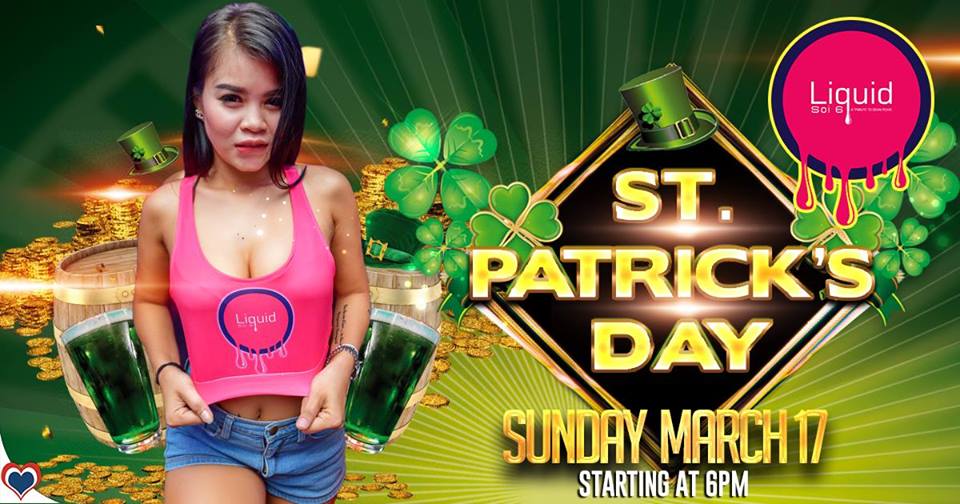 It's that time of year again already party people! Yes, that's right it's Saint Paddy's Day on March 17 and where better to come and enjoy the craic than one of Soi 6s latest and coolest bars – Liquid.
The lovely ladies of Liquid will be making this a night to remember the tunes will be pumping the girls will be up shaking their stuff and the booze will be flowing once the alcohol ban is finally lifted at 6 PM.
Free food will be on offer alongside free shots and more ladies than you can shake a shamrock at.
Liquid has only just opened in Soi 6 and is located halfway down the Soi on the right-hand side.
So get March 17 in your diary people and come on down and party with some of the hottest girls Soi 6 has to offer this Saint Paddy's Day.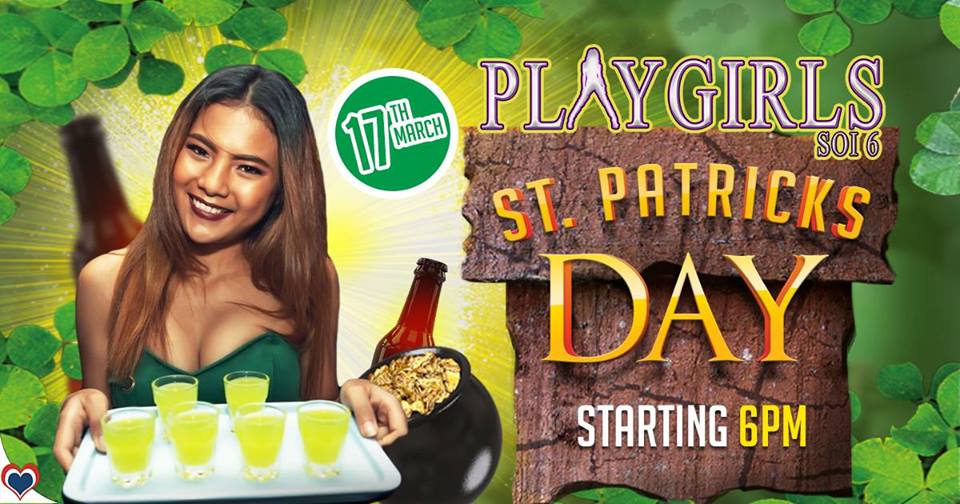 Its every party animal's favorite celebration on March 16 and the lovely ladies at PlayGirls will be going all out to celebrate St Patricks Day on March 17.
What better way is there to celebrate the end of the 24-hour non-boozing period than to head on over to Playgirls and party like a rock star.
The booze will flow from 6 PM when the booze ban has been lifted. Aswell as free food and shots.
PlayGirls located on Soi 6 roughly 150 meters down on the right-hand side if you enter from the Second Road end of the street.
So make sure you head on down and party with the Playgirls and make St Paddy's a night to remember.
Wicked is throwing a very special party to celebrate the patron saint of Ireland.
Come and let your wicked side loose at what will no doubt be an awesome party from 6 pm on March 17.
Free food, shots and the beautiful wicked girls will be wearing some very special outfits for the occasion.
Wicked can be found about 3/4 of the way along the right-hand side on what is arguably one of the most happening Soi's in Pattaya
So come celebrate Saint Patrick's day in style on March 17 the girls will be waiting for you!
St Paddy's Day is here again, and the girls at Tomcat's are throwing a very special party to mark the special occasion.
That's right party people head on over to Tomcat's at 6 pm sharp on March 17 for a night of fun games and lots of drinks.
Free food will be on offer to keep your energy levels up because you will need to be at your best to keep up with the Tomcat's hotties once they're in full party mode.
Tomcats is always wild; it can be found on Soi 6 about 100 meters down on the right-hand side if you are entering from 2nd road.
So head on down to Tomcat's on March 17 and enjoy the craic.