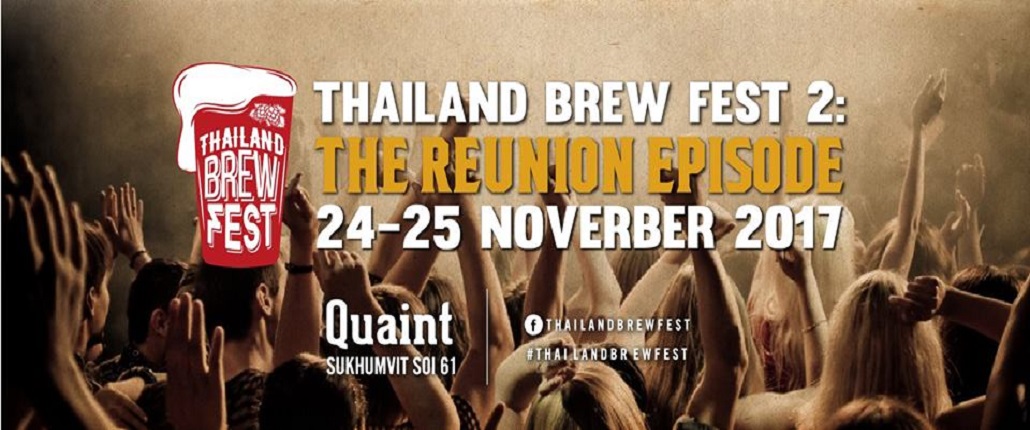 With more than 2,500 glasses of craft beer from 55 taps and 12 breweries, Thailand Brew Fest is back again. It's time for a reunion on the 24th and 25th of November at Quaint, Sukhumvit 61. It is going to be bigger, faster, and more fun.
Thailand Brew Fest II : The Reunion Episode will be an occasion for all beer and party lovers to come together. The festival will host over 40 breweries from 20 importers/distributors. Tapping from the local powerhouses (Boonrawd brewery, Thai Bev, San Miguel and Moose cider), to European classics (Weihensephaner, Estella damm, Zoller Hof, Bavaria, Hoegaarden, Stella artois, Leffe, Schneider, Maisels Weisse, etc.), to imported craft beers (BrewDog, Ballast Point, Hitachino, Coedo, Little Creatures, Heretic, Solaris, Postmark, De molen, Duchesse De Bourgogne, Deschutes, etc.) and Thai craft beers (Triple Pearl, Yaksa, Stonehead, Chiang Mai, Devanom, Happy new beer, etc.) together, setting a new record by having more than 80 beers and ciders on tap at the same time.
Thailand Brew Fest II : The Reunion Episode also features classic US food and BBQ stands in conjunction with the USDA. Expect dishes using high quality US ingredients like beef, lobster, oyster, salmon, etc. Satisfy your craving while enjoying activities like live bands, DJs, photo booths, and the return of The Very Serious Beer Pong Tournament. See you at Quaint, Sukhumvit 61 for the biggest reunion of beer & cider lovers on 24th and 25th of November 2017.
Stay tuned for beer list, band list and more details!!