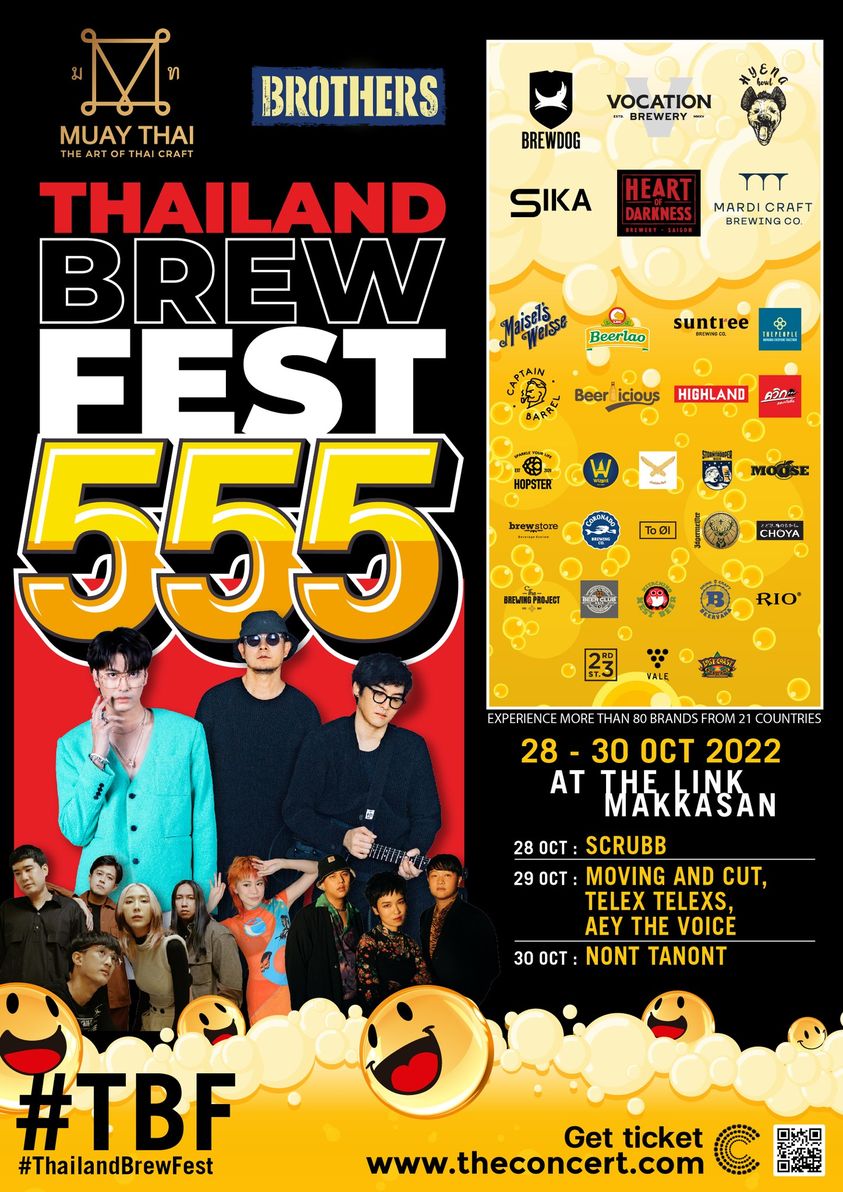 Thailand Brew Fest 555
28-30 October 2022 at The Link Makkasan
Thailand Brew Fest 555 The cheerful festival of drinking people is back again.
This round, we will do it hard with a variety of Thai and international drinks.
More than 82 brands from 21 countries
Join us for some of the chicest vegetarian food that you'll ever have to eat. Enjoy to a variety of music and scream to famous artists.
Friday, October 28th
Come to deliver a "smile" like "close" to the edge of the stage to the scrubb band.
Saturday 29th October
Under number 5, there are "hidden" tears with 3 artists that will make you laugh with tears. AEY the APE The Voice, TELEx TELEXs and Moving and Cut
 Sunday 30th October
Let's listen to the sweet voice that will warm you softly with the smile of NONT TANONT
Brand List :
23rd street / Australia
Ace / USA
Alesmith / USA
Aspall / England
Bavaria / the Netherlands
Bayreuther Brewhouse / Germany
Beachboys / Thailand
Beerlao / Laos
Beresford Estate / Australia
Bevik / Belgium
Brewdog / Scotland
Brothers Cider / England
Brewery de Molen / the Netherlands
Bruges Zot / Belgium
Chiangmai Beer / Thailand
Choya / Japan
Coronado Brewing / USA
Dainton Brewingh / Australia
The Half Man Brewery / yum
Deeds Brewing / Australia
Deschutes Brewery / USA
Dry & Bitter Brewing Company / Denmark
FilGood / Korea
Feral Brewingh Company / Australia
Founders Breweing / USA
Fox Hat Brewing / Australia
Garage Beer Co. / Spain
Glassgwegin / Scotland
Happy Monster / Sweden
Heart Of Darkness / Vietnam
Hitachino / Japan
Hobo Brewing / Australia
Hop Nation Brewing Co. / Australia
Hopster / Thailand
Hyena / Thailand
INK GIN / Australia
Hunter Master / Germany
King's Inch / Scotland
Kristoffe / Belgium
La Trappe Trappist / Netherlands
Country beer / Germany
Lindeman's / Australia
Lion / Sri Lanka
Lost Coast Brewery / USA
Mardicraft / Thailand
Maisel's Weisse / Germany
Moersleutel Craft Brewery / the Netherlands
Moose / Thailand
Muay Thai / Thailand
NB Brewing House / Thailand
O'Haras Brewery / Ireland
Oliver Muller / Thailand
Old Beersel / Belgium
Petrus / Belgium
Polly's Beer Co. / Wales
Mayor / Czech Republic
Revision / USA
River / China
Rodenbach / Belgium
Rogue Ales & Spirits / USA
Samata / Thailand
Schneider Weisse / Germany
St. Bernarndus / Belgium
Stamm Brewing / Russia
Stone Brewing / USA
Stormtrooper Beer / England
Penalty Hendrik / Belgium
Suntree / Thailand
The Brewing Project / Thailand
The Eagle / Thailand
The Nanda / Korea
The People / Thailand
Three Oak Cider / Australia
To Øl / Denmark
Topping Goliath Brewing / USA
Tsingtao / China
Vale Brewing / Australia
Vitamin Sea Brewing / USA
Vocation Brewery / UK
Weihenstephan / Germany
Windowmarker Brewing / USA
Wizard Brewery / Thailand
Grab Your Ticket Now!
– 1-day ticket. Price 599 Baht. (Card in front of the event price 729 Baht)
Can enter for 1 day with a coupon for 1 drink
– 3-day ticket. Price 1,399 Baht.
3-day entry with 3 drink coupons