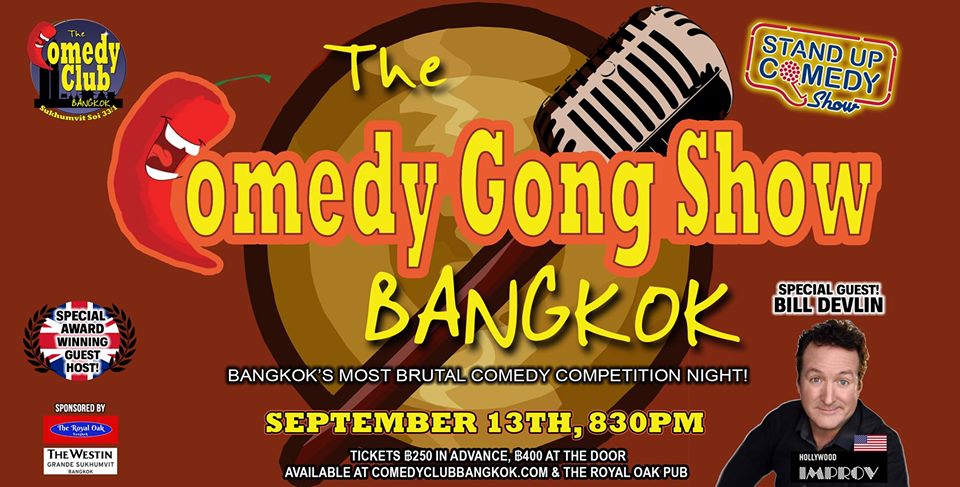 Lucky Sept Friday 13th we have Bangkok's most brutal stand-up comedy competition show – THE COMEDY GONG SHOW BANGKOK! Hosted by an exceptional award-winning British comedian and many a time Gongmeister! With special guest performance by "Funny as Hell!" LA Comedy Examiner – BILL DEVLIN (USA) of the world-famous HOLLYWOOD IMPROV comedy club fame!
So what is a gong show? What makes it so brutal? Well, not all gong shows are brutal, but this one is! At the beginning of the show, three audience members become the judges of the audience with a red card each. As soon as all three cards go up, aided by the laughs, groans and boos of the rest of the crowd, the contestant's time is up, which can be seconds! The gong is gonged, the music plays, and they are OFF! With the aim of each comedy star wannabee to reach that magical 5-minute market. HALLELUJAH!
All those that reach 5 minutes have a final round of around 90 seconds to win the audience's approval to become THE FIRST COMEDY GONG SHOW BANGKOK WINNER!
฿250 advance at ComedyClubBangkok.com and The Royal Oak Pub. ฿400 on the door.