The Kiwi has been off my radar for a while in Bangkok. In fact, it has been that long since my last visit, the place has upped sticks and moved location from its original base on Soi 8. I needn't have worried though because The Kiwi has only relocated a few hundred yards into a sub-Soi opposite where it once was situated.
The Kiwi as you can probably guess from the name has a direct link to New Zealand, that link being none other than New Zealand's infamous rugby team the All Blacks – one wall of the pub is adorned with a mural paying tribute to the legendary All Blacks, and it looks fantastic. However; The Kiwi isn't just a one trick pony. It offers a multitude of different sports shown across several wide screen TVs all of which can be enjoyed in a real pub atmosphere.
Inside the bar, the décor is simple and stylish. A beautiful wooden topped bar spans nearly the entire length of the pub, above which hangs traditional classy looking pendant light fittings, contrasted by bare brickwork walls spanning from floor to ceiling. Mounted upon the wall is a simple illuminated wooden spirits shelf which complements the bar area superbly.
The pub features bar tables and stools throughout which match the bar in style and colour offering excellent continuity in design. Each of the bar stools has been meticulously carved with the national plant of New Zealand the Silver Fern which is a stylish touch, and demonstrates that whoever has designed the interior of The Kiwi has paid real attention to detail — and it clearly shows. If you don't fancy being perched on a bar stool, you can always kick back and relax on the leather Chesterfield style sofas.
One feature I do love about the Kiwi is the bi-folding doors which separate the inside from the outside terrace area. This feature really does allow the light to come flooding inside giving the pub such an open and spacious feel to it. The only drawback I could envisage with such a feature was that it would make the pub too warm, but I was pleasantly surprised at how cold it was inside.
As I mentioned earlier, several TVs are located around the pub offering a view of at least one screen no matter where you happen to be sat. As well as several TVs there are two big-screen projectors, one located downstairs the other upstairs. The smaller upstairs area is very much in keeping with the ground floor regarding décor, but the upper area is dominated by an excellent full-size pool table (which is free to play). If throwing arrows is your thing you're also in luck as the upstairs area features a dart board.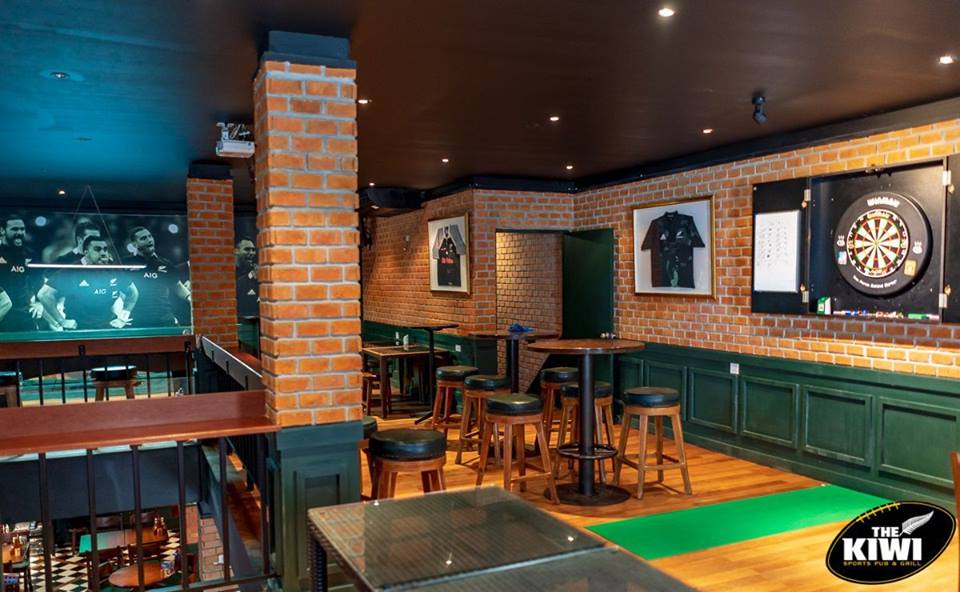 I visited The Kiwi on a Monday night as it was their weekly curry night promotion – curry & a pint for 279 baht, I can't think of a better way to start my week than with a Ruby Murray (curry) and a pint of the cold stuff. There is a choice of three different curries: Jalfrezi, Tikka Masala, and Rogan Josh served with steam rice and garlic pitta bread, washed down with either a pint of Tiger or Heineken.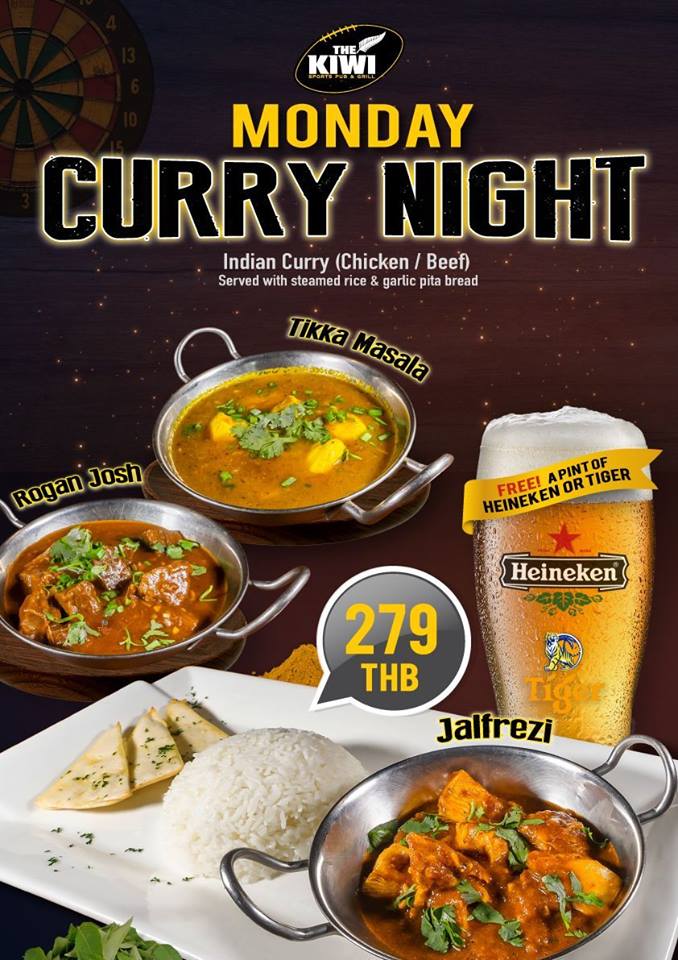 I like my curry hot, so I opted for the Jalfrezi and pint of Heineken. The service was friendly and efficient (no complaints on that front.) The food arrived swiftly and was presented beautifully on a square plate. The curry itself was served in a real authentic Balti stainless steel dish (just like home) which was sat on top of a napkin to stop it sliding around the plate — the kind of touch you would expect from a restaurant, not a pub, so top marks for attention to detail there. The steamed rice was served in a perfectly manicured mound lined up alongside three triangle shaped pieces of perfectly cooked garlic pita bread. Although the curry contained a decent sized portion of chicken the curry sauce itself was a bit of a letdown, there wasn't anything wrong in the way it had been cooked it just simply wasn't spicy enough for a Jalfrezi. However; the rice was light and fluffy, and the garlic pitta bread was precisely to my liking perfectly cooked not burnt and crispy and not overpowering on the garlic either.
All in all, I couldn't complain — other than that the curry wasn't spicy enough, but that's only my personal opinion. Apart from that 279 baht for a decent meal and a pint of beer in lower Sukhumvit is exceptional value for money. Will I leave it as long next time to visit The Kiwi? Absolutely not!
The Kiwi offers an extensive menu featuring all the usual pub classics as well as local Thai favourites. Promotions run throughout the week on various nights — see below for details.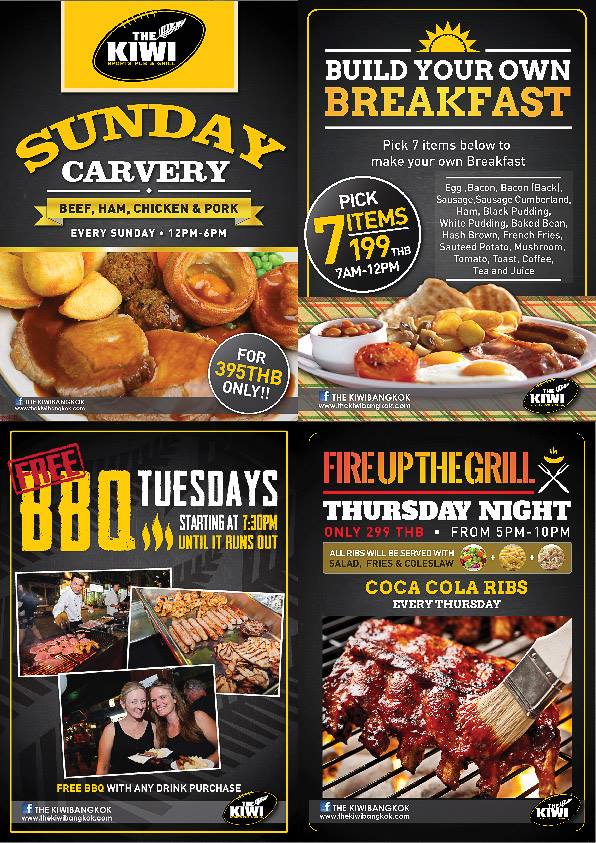 .