If you're planning on taking a trip to Phnom Penh here's some essential information we have put together at Chrome Crumpet to help you on your way.
Visa
If you're planning a trip to Phnom Penh, the first thing you will need to do is obtain a visa. A necessary tourist visa (T Class) is the most suitable and most accessible option if you plan on staying 30 days or less. Cambodia now offers an e-visa which can be applied for in advance of your visit to the Kingdom. The application is simple to complete, and the turnaround is rapid. The official website states that it takes up to 3 days to process the application, but I received mine within an hour – impressive. To complete the e-visa application, you will need an electronic copy of your passports main page plus a passport style photo. Further information can be found on the official Cambodian government website. The e-visa costs $36.
The second and most painful way is to obtain a visa on arrival –don't! This option is a total cluster fuck and will leave you hot and flustered even before you leave the airport. This option requires you to fill out endless forms, fuck about with passport-style photographs, stand in endless queues with hoards of Chinese tourists and takes an age to complete. Visa on arrival costs $35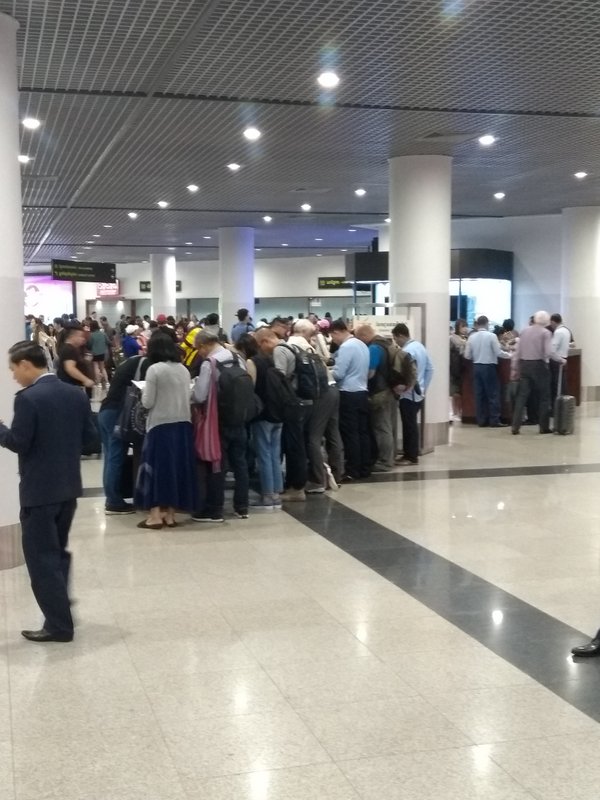 Whichever option you choose a Cambodian Tourist visa is valid for 30 days and is single entry only. Tourist visas can be renewed once for an additional 30 days for a fee of $45.
Getting there
The easiest way to travel to Phnom Penh from Bangkok is to fly. A short hop of around an hour, fares start for as little as $40 one way. Several low-cost budget airlines now ply the route with multiple daily flights.
Search flights to Phnom Penh here
Currency
The official currency of Cambodia is the Riel. However; most transactions in the Kingdom are carried out in the countries adopted money of the US $. One $ usually equates to around 4200 Riel. In the major cities, almost all prices are quoted in $ (especially in the tourist dominated areas). One drawback of this system is that when you purchase something in $ you receive change in Riel because Cambodia doesn't use American coins — basically the Riel is worthless, it's probably cheaper to wipe your arse with Riel than it is to buy toilet paper! Don't worry about loading up on $ before you arrive in Cambodia ATM's dispense cash in $, but make sure to spend any Riel before you leave the country you can't exchange it in any country outside of Cambodia.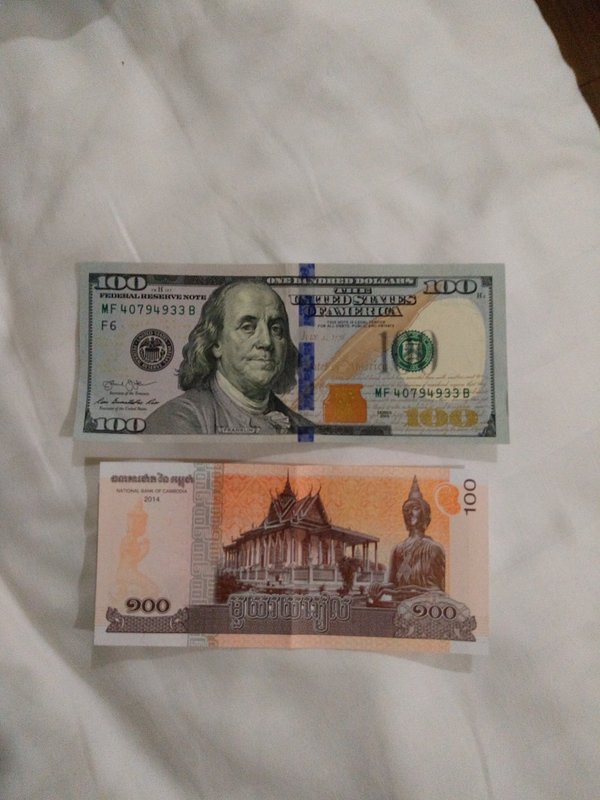 A word of caution! Try to avoid carrying $100 bills especially around the bars & clubs. A local well know scam is for a customer to try to settle a bill with a $100 note only for the service staff to return and say that they don't have enough change, and return to you a FAKE $100. If you do just have $100 notes before you hand it over, take a screenshot of the serial number that way if you do fall victim to the scam you can reference the serial number back to the original you paid with.
Sim Card
If you're planning on staying connected while in Cambodia, I advise purchasing a SIM card on arrival at Phnom Penh airport. Prices are incredibly reasonable, and speeds and coverage have improved massively. Buying a SIM is straightforward. If you're arriving into Phnom Penh airport, there's a booth in the terminal, on your right as you leave baggage reclaim. I paid $5 for a tourist SIM with unlimited internet access for seven days. Just hand over your phone and $5 to the service staff, and they will install the sim and connect you to the network there and then – hassle free. Having an internet connection will allow you to use Google maps to navigate the city and also enable you to use apps such as PassApp for transportation and Tinder to track down Cambodia Cuties.
From the airport to the city
Phnom Penh airport is located only around 8-9kms from the city centre. However; due to the towns chronic traffic problems it can take upwards of an hour to cover the short distance.
As with most SE Asian cities when you arrive outside the arrivals hall, you are greeted by several men shouting at you trying to get your business. Take a deep breath and relax because there are multiple options available for getting into the city centre. The two easiest transport methods are either by taxi or tuk-tuk.
Taking the taxi option is undoubtedly the safest and most comfortable, but also the most expensive. As you leave the arrivals hall if you turn left a line of official airport taxis will greet you. The alleged official fare for a taxi into Phnom Penh is $12, $15, or $18 depending on which zone of town you're heading to, and they will give you a ticket that says the price before you get into the taxi. A taxi to the Riverside (where most of the nightlife is located) will cost $12. Most other locations in central Phnom Penh such as the Russian Market are $15, or $18 for places across the river, such as the Naga World Casino complex.
Check at the taxi office just outside of arrivals here the relevant zones are highlighted if you are staying around the riverside tourist area you certainly don't want to be paying any more than $14-15.
The second and cheaper option is to grab an airport tuk-tuk. Around $10 is the going rate for a bumpy eye-opening wonderful introduction to Cambodia which is a real attack on the senses. A great ride if it's your first visit to the Kingdom. The old style tuk-tuks in Cambodia differ from their Thai counterparts; they are usually a carriage pulled along by a motorbike by some marvel of Cambodia engineering. The airport tuk-tuks are located behind the taxis, and the drivers identified by the pale yellow shirts they wear.
A new option for "Budget Bobbies" is the introduction of a train service. The service operated by Royal Railway Cambodia will take you directly from Phnom Penh International Airport (parking area) to Phnom Penh Railway Station (City Center) in about 40 minutes non-stop. The service runs 24 hours a day, and the fare is a bargain $2.50 — a great option if you want to beat the traffic especially around peak hours.
Where to stay and hotels
If the sole purpose of your visit is to sample Phnom Penh's nightlife, then I would recommend staying in the riverside area, street 130 or street 136. Here you will be centrally located to experience everything the city has to offer. To book hotels in Phnom Penh follow the link
Although the city still awaits the arrival of big western hotel chains there are still plenty of options available for visitors. The Riverside area is packed full of run down shitholes offering flee ridden rooms from as little as $10 a night if you're on a budget, all the way up to 5 star luxury at the likes of Raffles at $200 a night. The area that has seen the most improvement is within the mid-range offerings. Booking a night in a boutique style hotel is now achievable for around $30-40.
One such hotel is "The Lavanya" a boutique style hotel centrally located on street 136 which I had the pleasure of staying at recently. The hotel offers contemporary, spacious rooms with super comfortable beds and furnishings.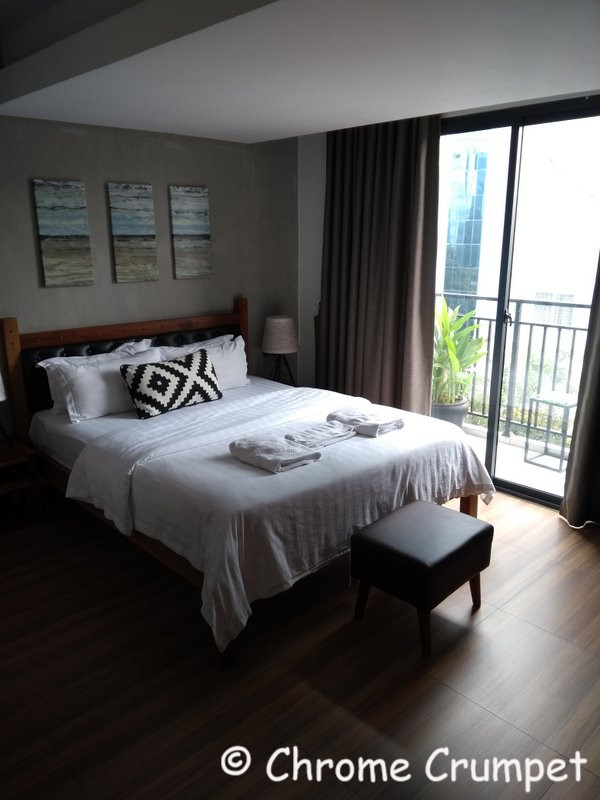 The bathroom was stocked with complimentary toiletries and featured a wonderful rain-shower, which provided a constant high pressured stream of hot water.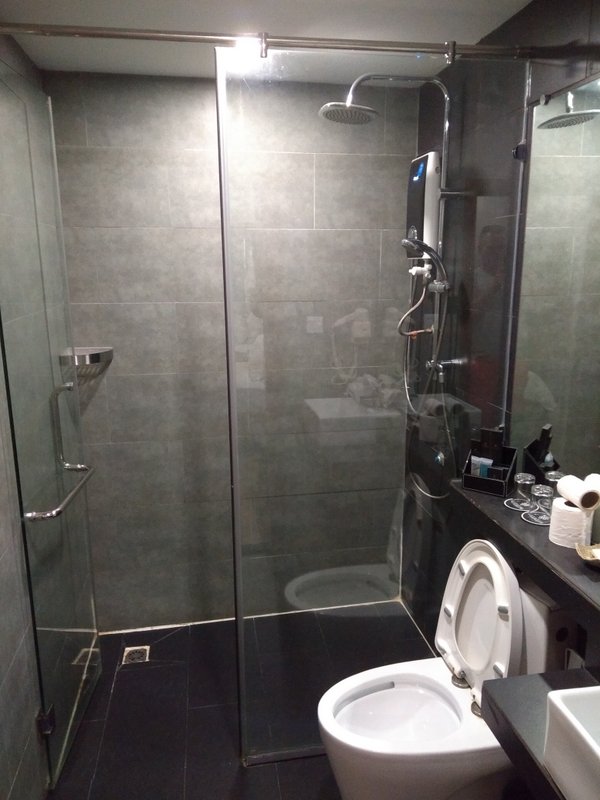 Breakfast was included in the price and served al fresco in the rooftop restaurant. The breakfast menu featured half a dozen a la carte options, including "Poached Eggs On Baguette" ( two poached eggs on a toasted baguette topped with hollandaise sauce served with sautéed mushrooms and pan-seared potatoes).
The Lavanya is also guest friendly and doesn't charge guests a joiner fee! Follow the link to book a room at The Lavanya
Getting around Phnom Penh
One of the first things you notice about central Phnom Penh is that there are no taxi cabs. Unlike nearly every other city on the planet, the Cambodian capital has no hail a ride taxis. If you want to travel by taxi, you have to book in advance, and by all reports, the service is inept at best. I have never travelled by taxi in Phnom Penh other than to the airport instead, opting to use tuk-tuks. A big advantage is the city is relatively small in size and tuk-tuks are perfect for zipping about in.
One thing that is guaranteed to piss you off is the constant call of "tuk-tuk Sir" without doubt you will hear this dozens of times a day if not more — if you think Thailand's tuk-tuks are a nuisance wait till you encounter this mob. Not only are they a nuisance, every trip that you take in an old school tuk-tuk you have to bargain over the fare, and quite frankly it gets fucking annoying very quickly! But fear, not the 21st century has arrived in the form of PassApp.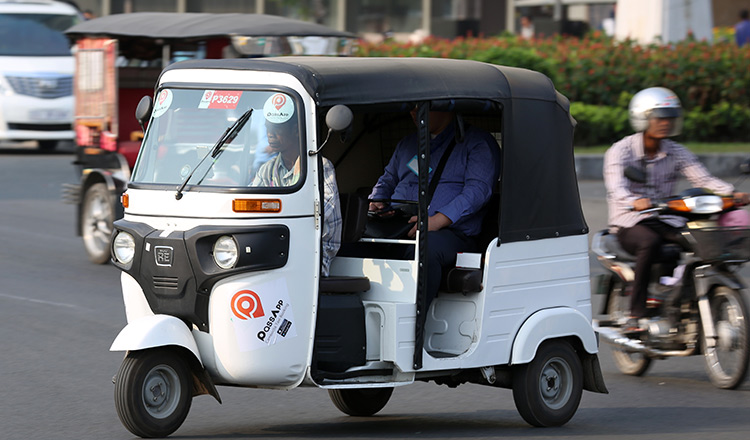 PassApp is the Cambodians riding hailing App of choice it allows you to book a tuk-tuk quickly, effortlessly and most importantly hassle free. PassApp is super easy to use when you open the app; you'll be led to a map of your surrounding area that is picked up by your phone's GPS. Just tap "Set Pickup" at the bottom on your screen, and the application will send out a request to registered Tuk-Tuks in your area.
Once a tuk-tuk driver has accepted your job offer you then receive a notification informing you that he is on his way and how long until his expected arrival. The announcement will also send you a number such as P10581 this is the individual tuk-tuk ID match this with the sticker in the front window of the tuk-tuk to be sure you have the right chariot.
Additionally, you can tell PassApp your desired location, and you will receive an estimated price for your completed journey ahead of time, removing the hassle of having to haggle with the tuk-tuk driver for every trip you take.
This information should assist you with planning your first trip to Phnom Penh any further question please leave a comment and we will do are best to answer any quires you have.