The weekend is here at last! It's the time of the week that you have been dreaming about while chained to your office desk. Being packed into the BTS like sardines and having to suffer endless mind-numbing meetings are a distant memory. At long last, the weekend has arrived, and its time to dust off the disco shoes and cut loose and enjoy yourself.
Here is Chrome Crumpet's guide to what's on and where for all you weekend revellers.
This weekend for the first time Mustache Bangkok & EPIC Entertainment we bring you Berlin's top producer & DJ: Alle Farben back to Bangkok!
After DJ Alle Farben's stunning performance at last years, Kolour Festival Mustache is excited to hear some fantastic new tunes from Farben this Friday 8th March. The event kicks off at 9 PM and rocks until the early hours!
The line up includes:
Mustache:
▸ Alle Farben
THE LAB: (second floor):
▸ Sabura (Hamburg)
▸ A.D.H.S (Berlin)
Expect the best of House & Techno all night long!
ENTRANCE FEE IS 400 BAHT AND INCLUDES 1 FREE STANDARD DRINK. Bottle deals are available such as one bottle of JW Black or Belvedere with three tickets for 3000 baht.
In association with Absolut, Singha and Red Bull The Westin Grande Sukhumvit brings you the hottest pool party in town this Saturday 9th March.
A selection of DJ's from around the globe will take turns spinning the tunes with DJ DUNK (GBR) and KOFI MAFI (USA) amongst the lineup.
An official afterparty will be hosted at LEVELS Soi 11. Pool party revellers will receive two free drinks before 11 PM and one free drink before midnight with their pool party wristbands. LEVELS operates a no shorts, flip flops or swim wear dress policy.
The event is for ADULTS only, entrance is 400 baht including one free standard drink, and there will be an open bar from 1:00 – 2:00 PM
Various VIP Packages are available including
VIP PACKAGE 2: THB 4,500 for four people
1 Bottle of premium spirit
1 Jacob's Creek Trilogy Sparkling NV Cuvee Brut
6 Mixers (including Redbull)
Four free entrances to the party including one standing cocktail table.
Tables held until 3:30 PM.
Tickets are available here: https://onlinestorewestinbangkok.com/collections/westin-pool-party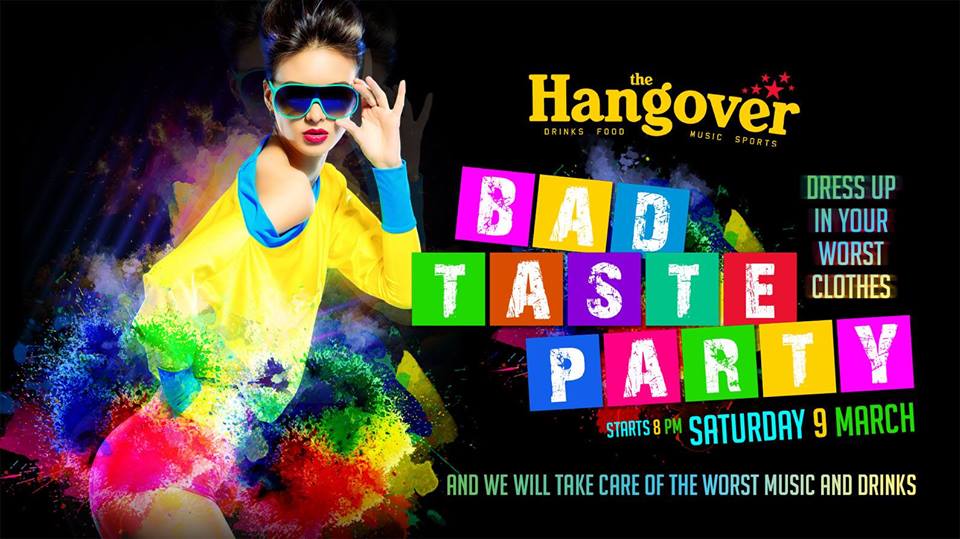 Saturday 9th March The Hangover Bar is hosting a "Bad Taste Party" from 8 PM. Open up your wardrobe and pick out your worst outfit, or anything that qualifies as BAD TASTE. You take care of the hideous outfits, and The Hangover will take of wrong music, bad drinks and awful atmosphere. Special BAD PROMO this night will be SAN MIG LIGHT: 130B for a pint, 75B for half a pint. Get ready for debauchery, see you!
FRIDAY means ELECTROSÉ!
The working week is over, so some come to enjoy Rose Wine, Tapas and Sunset beats at Blue Parrot's Bangkok tropical oasis. With a 15% discount on up to 14 Rose Wines its time to kick back and relax around the pool with a free complimentary tapas platter included in the purchase of any bottle.
Sunset beats will be provided by DJ Badou Ch
Free entry all night!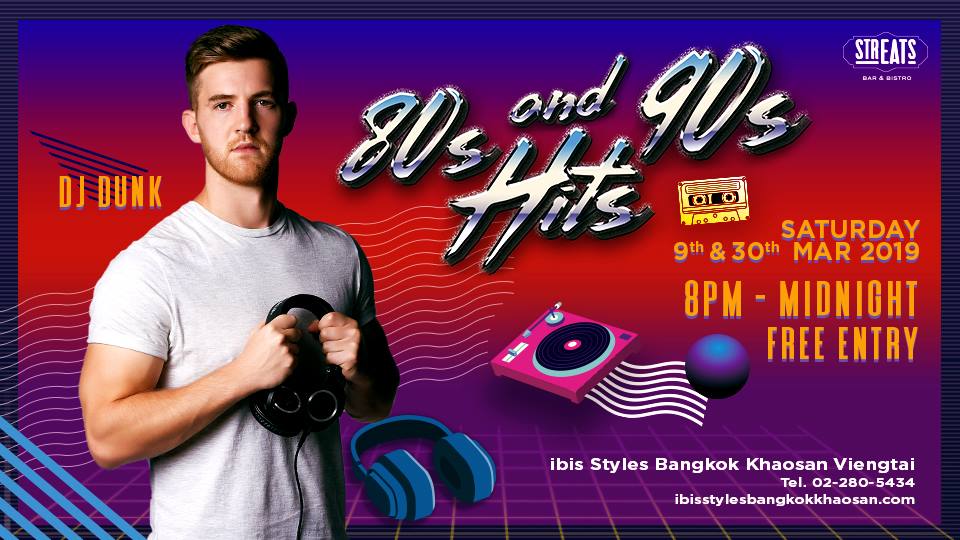 It's time to dig out the flares and terrible party wigs from the '80s and head on down to Ibis Styles Khaosan to enjoy a fun-filled evening of hits from the '80s & '90s. DJ DUNK will be spinning the best pop, hip hop hits and more from the 80s and 90s. It's a party on Saturday, March 9th from 8 pm until midnight, right here in Soi Rambuttri.
Bonus round: Get that hair big and come in your best 80s & 90s inspired outfits!
???? FREE ENTRY all night
???? WIN FREE SHOTS with fun activities during the night