I think it's safe to say that Pattaya is the undisputed "pay for play" destination in Thailand — period!
For those who are looking to indulge in the naughtier side of South East Asian nightlife, Pattaya is the place to be. From sunrise until sunset and beyond, there are thousands of women working in the various adult entertainment venues throughout Thailand's "Sin City".
Pattaya must have hundreds of go-go bars, hundreds of massage shops offering "happy ending" services and thousands of beer bars where hostesses are available for a not much more than a fist-full of Thai Baht. However; one venue that is surprisingly lacking in comparison to say Bangkok is … soapy massage establishments.
Bangkok is well known for its soapy massage district of Phrom Phong which houses dozens of soapy massage parlours where naughty boys can frolic until their heart's content in soapy heaven with a brown skinned beauty. Unfortunately, Pattaya has no such district. That's not to say it doesn't have any such establishments, it does.
The soapy massage parlours of Pattaya are few and far between, but they are out there, and they contain some of the hottest, white-skinned, youngest girls working in the whole of Pattaya. Soapy massages are hugely popular amongst the Asian sex tourists especially the Japanese and Koreans, and most of the girls are chosen to suit their tastes ­— hence them being so light skinned. If you're a fan of dark-skinned Isan girls Pattaya's soapies aren't going to be for you! Pattaya's massage parlours are also open to everyone, that's why a lot of Indians visit, who often aren't made to feel welcome in Sin City's go-go bars.
So, without further ado let's take a look at Pattaya's best soapy massage parlours in 2019.
Sabai Dee
Often rumoured to be the most popular and longest running soapy massage in Pattaya. However; on my visit (on an alcohol-free day) it was very quiet with only a handful of customers. Sabai Dee like most of Pattaya's soapy massages is located on Second Road near to the Dolphin roundabout end, and you can't miss it due to its illuminated exterior as well as its sheer size.
As enter the building you first pass an aquarium built into the wall on your right-hand side. Upon entering the spacious lobby you will notice a big L shaped fishbowl type arena, but the soapy massages of Pattaya aren't actually "fishbowls" there isn't any glass separating you and the girls!
Located in front of the fishbowl are several comfy sofas where you can relax and hang out with a beer and browse the selection of girls at your pleasure without any pressure. Be warned though; the girls will compete with each other to grab your attention by waving, nodding and smiling at you. If you're on the shy side, you may find this a bit intimidating! Take your time and relax. You don't want to rush into choosing a girl only to regret that decision later on.
On my visit upwards of 60 girls were available which included a wide variety of girls with something to suit all tastes. The only drawback about Sabai is its very confusing pricing structure. There are three different prices ranges, girls sporting red & blue are 2000 Baht, those in yellow are available at 2400 Baht and girls in pink are 3000 Baht all for a 90-minute service. In my opinion, there was very little difference in quality between the price ranges. In fact, the best looking girls were the cheapest!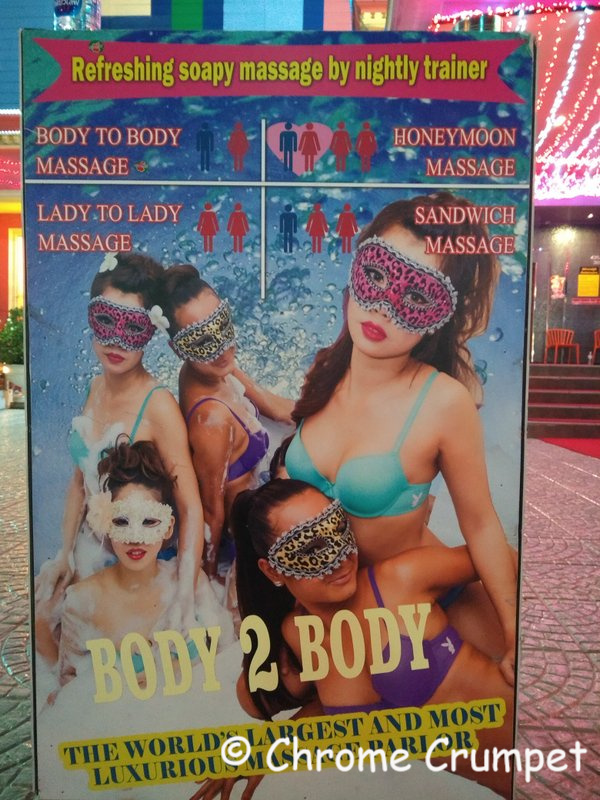 Sabai Room
Sabai room is the newcomer to the soapy scene in Pattaya located on the opposite side of Second road from Sabai Dee and Honey 2.
Sabai Room almost resembles a gentlemen club, and maybe that's a big mistake. Perhaps, that puts some customers off who think that prices are going to be on the high side. There could be some truth in this because on my visit Sabai Room was empty yet across the road Sabai Dee & Honey 2 were standing room only.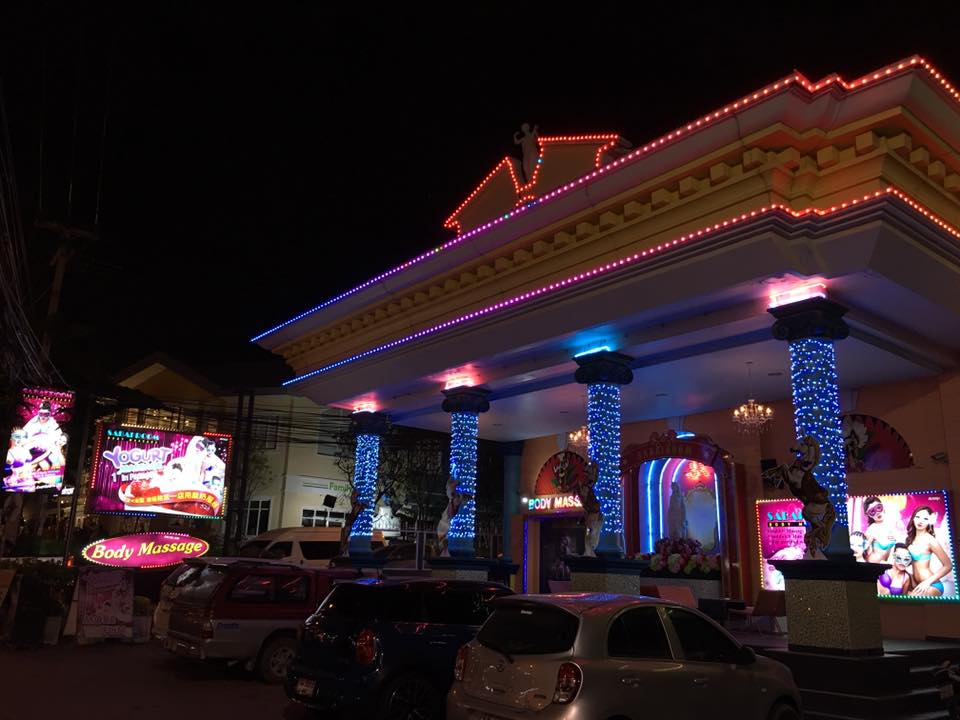 Once inside you enter a vast open lobby area with seating on one side, and the girls sat opposite on tiered style seating. A large number of girls were available easily upwards of 60 with a wide variety on offer. A pappasan that spoke excellent English informed me that girls to the left are priced at 2000 Baht, and those to the right were 2400 Baht both for a 90-minute service. He also made it quite clear that it was a one-shot only joint in his words it was: "one shot then you die"! Sabai Room had the most straightforward pricing structure of all the establishments I visited.
If you are feeling flush and fancy treating yourself to an experience, you will never forget then you can treat yourself to the Sabai special " want to feel like a rich man massage" which includes three girls for 90 minutes of sexy soapy heaven.
Running alongside the normal soapy massage experience on offer Sabai has an unusual cold yoghurt massage available for an additional 200 Baht. I don't know if this is to appeal to the Asian clientele who frequent soapies I'm unsure — it's certainly not something I have never come across in many years in South East Asia.
Honey 2
Honey 2 is located on the same side of Second Road as Sabai Dee only a few hundred yards separate the two. On first sighting, Honey 2 resembles more of a high-end nightclub than it does a massage establishment. The building itself is vast and illuminated with bright, colourful neon lighting. Honey 2 has 70 rooms!
Upon entering the building, you quickly get the impression this is no ordinary run of the mill massage business. The inside is plush and if it wasn't for all the girls inside you could easily be mistaken that you had just entered a high-end hotel lobby. The lobby features numerous sofas to relax on while you survey the girls on offer as well as a fully stocked bar.
Honey 2 has a vast selection of girls to choose from, on my visit, there must have been close to 100 mattress actresses on offer, ranging from some big units to very light skinned girls mostly in their 20's.
Honey 2 is more expensive than its neighbours with prices starting at 2500 Baht up to 3800 Baht again like others in the area for 90 minutes. For me, the only difference between the girls was that the girls at 3800 were very light skinned, in terms of looks I thought the girls were quite similar certainly not worth the big difference in price.