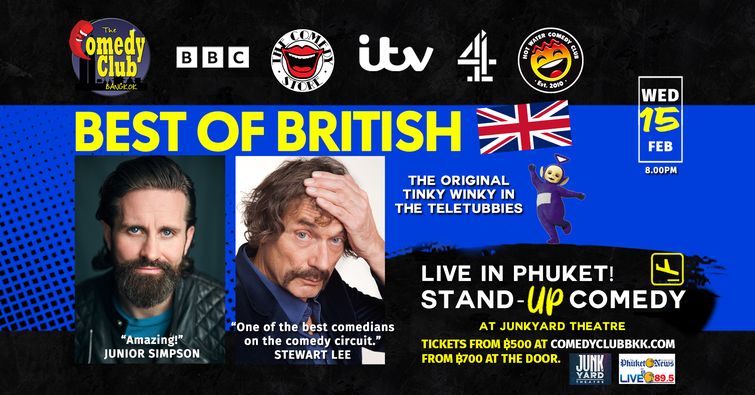 From the UK to Phuket, The Comedy Club Bangkok & Junkyard Theatre proudly present 'BEST OF BRITISH' comedy with TV comedians JOE ZALIAS & DAVE THOMPSON!
For our first BEST OF BRITISH comedy show, we have the hilarious JOE ZALIAS, a terrific comic with a wide range of impressive TV and club credits as both a comedian and actor. We also have a true veteran of the more alternative comedy scene with DAVE THOMPSON, a master and student of brilliant, innocent and absurd comedy in the school of Charlie Chaplin, Tommy Cooper, Rik Mayall and Harry Hill – for which Dave has performed numerous times on his TV and live shows. He's been on the BBC, ITV, and Channel 4 as well as radio, and is perhaps best known as THE ORIGINAL TINKY WINKY IN THE TELETUBBIES! Revered by STEWART LEE as "One of the best comedians on the comedy circuit.", he is also an actor. Dave has had a long and fruitful career and brings a joyful brilliance to every show he does.
So after bringing great comedians such as Tom Rhodes, Dwayne Perkins, Dana Alexander and many more, Phuket get ready for our first BEST OF BRITISH comedy show as these two legends hit the stage with special guests for one night only and ONLY at Junkyard Theatre!
From ฿500 in advance online at bit.ly/FEB15-COMEDY-PHUKET / ComedyClubBKK.com. From ฿700 at the door. LINE/Whatsapp at 061-174-3716 / email Bookings@JunkYardTheatre.com.