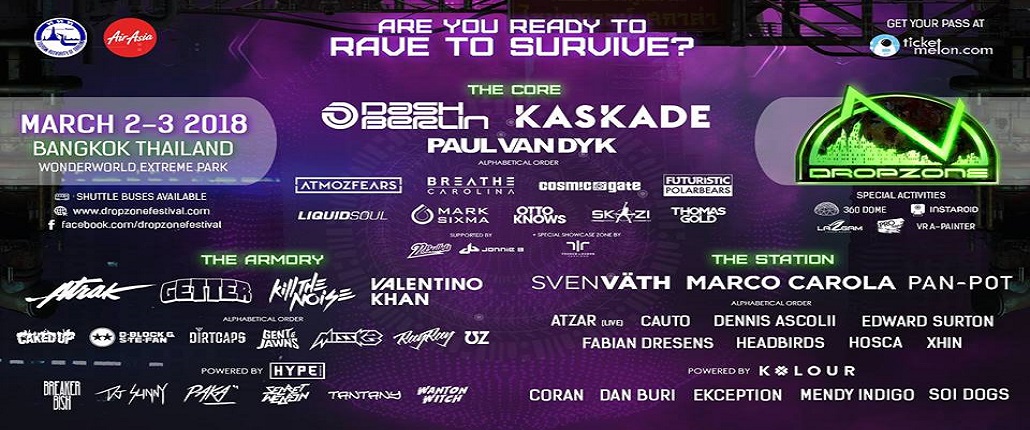 Recruit, there you are!
We've been looking all over for you. Are you ready to RAVE TO SURVIVE?
???? Dance 'til you drop at 3 full-powered stages blasting EDM, TRANCE, TRAP, TECHNO, and HARDSTYLE by international Audiomancers and supported by regional acts.
???? Get immersed and take thrilling choices as you journey with your friends through the cinematic world of Dropzone. Where will your decisions take you?
???? Grab your squad and tackle the zones of the fortress including The Arcade, The Bazaar, The Arena, and The Recovery Bay!
Scout out the fortress here: https://goo.gl/ydyJp1
???? Choose from Silver, Gold, Gold Table and Diamond Passes, each with unique perks for you and your fellow soldiers to enjoy.
Grab your passes here: https://www.ticketmelon.com/event/dropzonefestivalbangkok2018
???? Join the movement by adding a Dropzone symbol to your photo with the Dropzone Festival application!
Google Play: https://play.google.com/store/apps/details?id=com.dropzone
App Store: https://itunes.apple.com/us/app/dropzone-festival/id1291828864?mt=8
The fortress gates will open on Friday 2nd and Saturday 3rd March 2018 from 14.00 onwards at Wonder World Extreme Park (aka The Dropzone Fortress)
May the music and lights guide you. Stay safe!
Get ready for an all-new electronic music experience that will throw you and your friends straight into the heart of a post-apocalyptic battle between human-kind and savage creatures from another galaxy.
What role will you play to save our world?
▶ BUY PASSES NOW!
https://www.ticketmelon.com/event/dropzonefestivalbangkok2018
SILVER PASS
General Admission to The Core, The Station, The Armory, and all prime areas
GOLD PASS
Gold-rank entry lane at The Gates
Access to Gold areas at The Core, The Station, and The Armory
Access to The Lounge
Dedicated route to front of stage at The Core
Dedicated bars & bathrooms
Want to party like a Dropzone commander? Get your squads together for….
GOLD TABLE
[book via reservations@dropzonefestival.com]
6 Gold Table Passes
Private table at The Core or The Station or The Armory (choose 1 stage)
Ability to purchase 4 extra Gold Table Passes
Gold Bottles pack:
2 bottles of premium spirits
1 bottles of premium bubbles
10 cans of beer
10 mixers
Gold-rank entry lane at The Gates
Access to Gold areas at The Core, The Station, and The Armory
Access to The Lounge
Dedicated route to front of stage at The Core
Dedicated bars & bathrooms
DIAMOND DOME – SOLD OUT (waiting list available)
[book via reservations@dropzonefestival.com]
10 Diamond Passes
Private cooled-zone dome at The Core
Ability to purchase 5 extra Diamond Passes
Food & Beverages service
Dedicated service officer
Private bars & bathrooms
Exclusive Loot: Diamond-rank Lifecrate with Diamond Bottles pack:
3 bottles of premium spirits
1 bottle of diamond-rank bubbles
1 bottle of premium bubbles
10 cans of beer
15 mixers
Diamond-rank check-in at The Gates
Access to Gold areas at The Core, The Station, and The Armory
Access to The Lounge
Dedicated route to front of stage at The Core
Dedicated bars & bathrooms