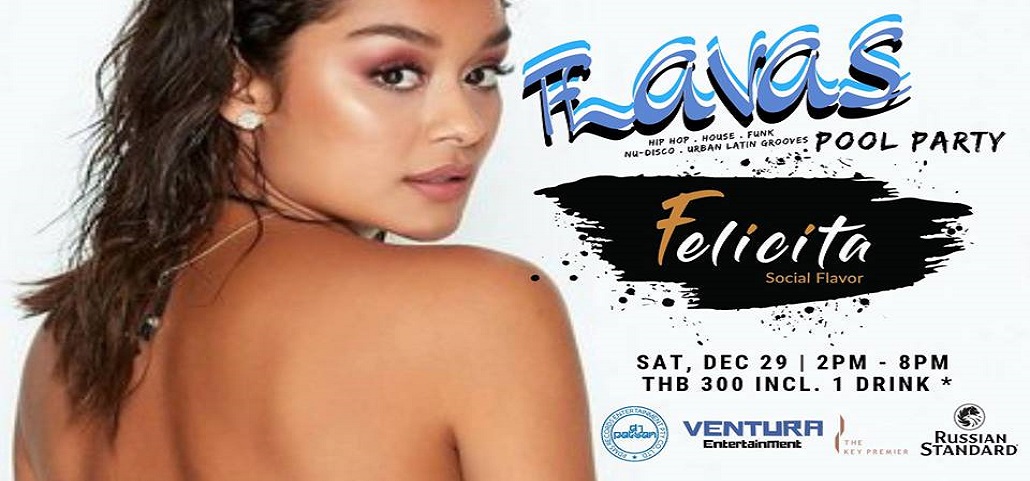 FLAVAS Pool Party @ Felicita Rooftop Bar & Grill
Saturday, Dec 29, 2018 | 2pm – 8pm
The Key Premier Hotel Sukhumvit Soi 7
Get down and boogie with us with some jazzy hip-hop, kickass funk, disco down into the house of groove and soulful beats, strut your feet to the urban Latin rhythms or chill by the pool coz life is one helluva bloody good party so don't miss out on the fun!
Lets get this party started from: 2pm to 8pm
Felicita Rooftop Bar & Grill The Key Premier Hotel Sukhumvit
This party is full of FLAVAS for the groovers and movers and lovers of fine music and anyone who wants to let their hair down and party like its 1999 and have a good time.
DJs
MK | Dj DaddyRock | DJ Patsan | ÐJ Ven Meister
Live Musicians
Yong Brass – Trombone & Bongos
Thanakorn Phothivesa aka Benz – Saxophone
Camilo Diaz – Congas & Percussion
Music FLAVAS
Nu-Disco, Disco Remixes & Reedits
Old School Party Hip Hop & Dancehall Jams
Groovy, Funky, Jazzy, Swingy – House Music
Deep Funk, Soulful Beats, Latin and Brazilian Beats
Just come along Move and Groove to the beats.
PARTY ENTRY Fee: THB 300 incl. complimentary drink
Open Bar Free Flow: 2pm – 3pm
(VODKA COCKTAILS & SANGRIA)
FELICITA GRILL BUFFET: THB 450
3 Mains 2 Salads 1 Dessert EAT, DRINK AND PARTY HARD
THB 50 Vodka Jello Shots each of 12 shots for THB 500
THB 100 Singha Beer all day/night deal.
THB 150 Gin/Vodka/Rum/Tequila + Mixer all day/night deal.
THB 200 selected Cocktails and Wines all day/night deal.
SPECIAL VIP PACKAGE: BOTTLE SERVICE + 6 MIXERS
THB 1900 upwards choice of Vodka, Gin, Rum
* MORE BAR SPECIALS TO BE ANNOUNCED.
Brought to you by :
▶ Ventura Entertainment & PDMS records & Entertainment
▶Venue Sponsor The Key Premier Hotel Sukhumvit By CompassHospitality
▶Alcohol Sponsor – Russian Standard