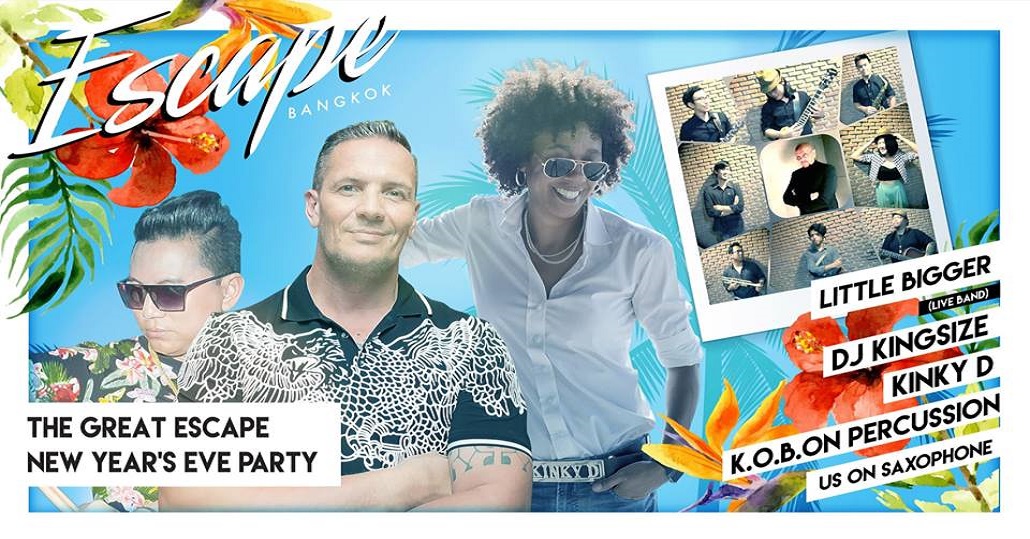 The Great Escape – New Year Eve's Party!
Our first New Year's Eve party, We have gathered Bangkok's finest entertainment for one night where people from our different communities come together. We wanted to sunbathe and swim with a mojito, so instead, we're taking a vacation for one night to a tropical paradise and make sure you'll have THE GREAT ESCAPE!
Escape Bangkok's all-stars DJ Line-Up
7PM-9PM: Little Bigger (Live Band)
9PM-10.30PM: Kinky D
10.30PM – 2 AM DJ Kingsize
K.O.B. On percussion
Us on saxophone.
☀ Party starts from 7 PM – 2 AM!☀
☀ To reserve the best seats, purchase a table package is highly recommended by calling 02 003 6000 or email reservations@escape-bangkok.com
━━━━━━━━━━━━━
???????????????????????? ???????????? ????????????????????????????????
PACKAGE A (ELLIPSE AREA):
????????. ????,???????????? ???????????? ???????????? ????-???? ????????????
THIS GETS YOU A CHOICE OF ONE:
1 BOTTLE OF JOHNNIE WALKER BLACK LABEL
1 BOTTLE OF KETEL ONE VODKA
1 BOTTLE OF TANQUERAY GIN
PLUS MIXERS AND ICE
INCLUSIVE FOOD COUPON FOR EACH GUEST
????????. ????????,???????????? ???????????? ???????????? ????-???? ????????????
THIS GETS YOU A CHOICE OF ONE:
1 BOTTLE OF JOHNNIE WALKER BLACK LABEL
1 BOTTLE OF KETEL ONE VODKA
1 BOTTLE OF TANQUERAY GIN
PLUS MIXERS AND ICE
INCLUSIVE FOOD COUPON FOR EACH GUEST
????????. ????????,???????????? ???????????? ???????????? ????-???????? ????????????
THIS GETS YOU A CHOICE OF TWO:
1 BOTTLE OF JOHNNIE WALKER BLACK LABEL
1 BOTTLE OF KETEL ONE VODKA
1 BOTTLE OF TANQUERAY GIN
PLUS MIXERS AND ICE
INCLUSIVE FOOD COUPON FOR EACH GUEST
PACKAGE B DRINKS ONLY (TENT OR SAIL AREA):
????????. ????,???????????? ???????????? ???????????? ????-???? ????????????
THIS GETS YOU A CHOICE OF ONE:
1 BOTTLE OF JOHNNIE WALKER BLACK LABEL
1 BOTTLE OF KETEL ONE VODKA
1 BOTTLE OF TANQUERAY GIN
PLUS MIXERS AND ICE
INCLUSIVE FOOD COUPON FOR EACH GUEST
????????. ????,???????????? ???????????? ???????????? ????-???? ????????????
THIS GETS YOU A CHOICE OF ONE:
1 BOTTLE OF JOHNNIE WALKER BLACK LABEL
1 BOTTLE OF KETEL ONE VODKA
1 BOTTLE OF TANQUERAY GIN
PLUS MIXERS AND ICE
INCLUSIVE FOOD COUPON FOR EACH GUEST
????????. ????????,???????????? ???????????? ???????????? ????-???????? ????????????
THIS GETS YOU A CHOICE OF TWO:
1 BOTTLE OF JOHNNIE WALKER BLACK LABEL
1 BOTTLE OF KETEL ONE VODKA
1 BOTTLE OF TANQUERAY GIN
PLUS MIXERS AND ICE
INCLUSIVE FOOD COUPON FOR EACH GUEST