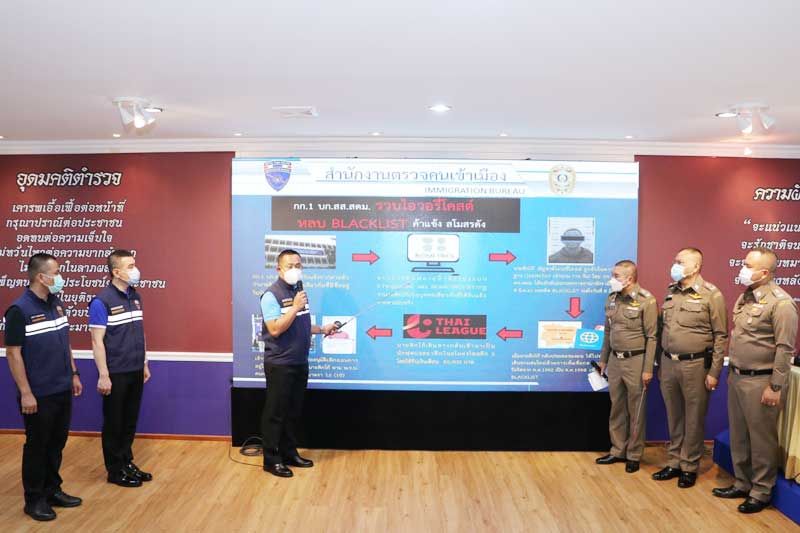 Picture: Naew Na
Naew Na reported on the activities of the Immigration Bureau headed by Lt-Gen Sompong Chingduang at IB HQ yesterday.
Top of the list of cases was that of an Ivory Coast footballer called Mr Dicko Abou who was a striker for a Thai football team in League 3.
An informant told the IB that things were not quite right and so it proved.
The biometrics system and subsequent fingerprinting after the suspect was arrested at a condo in Pak Kret, Nonthaburi, revealed that Mr Dicko Abou was in fact just Mr Dicko.
Mr Dicko was sent back to Ivory Coast and banned for ten years by  Songkhla immigration after they arrested him in 2018 on 774 days overstay.
He could not legally return to Thailand until 2028.
This did not deter Mr Dicko who just added Abou to his name, changed his birthdate from 1992 to 1998 and got a new passport in Africa.
This fooled the Thai's much-vaunted 2.2 billion baht Biometrics system, notes Thaivisa.
Mr Dicko will now be deported again.
Naew Na reported that he had been earning 50,000 baht a month playing football.
Information on Facebook said that in January 2020 BTU United signed Ibrahim Abou Dicko from Bangkok FC.
The previous season the "21 years old Ivorian was the Fire Bulls' top-scorer" with 15 goals in 25 appearances.
Dicko also played for Muangthong United FC, Pattani FC and Nara United and represented the under-17 Ivorian team, suggested the information uncovered by Thaivisa.
https://forum.thaivisa.com/topic/1218746-how-striker-mr-dicko-got-back-into-thailand-despite-10-year-ban-to-play-football-in-league-3/?utm_source=newsletter-20210529-1238&utm_medium=email&utm_campaign=news