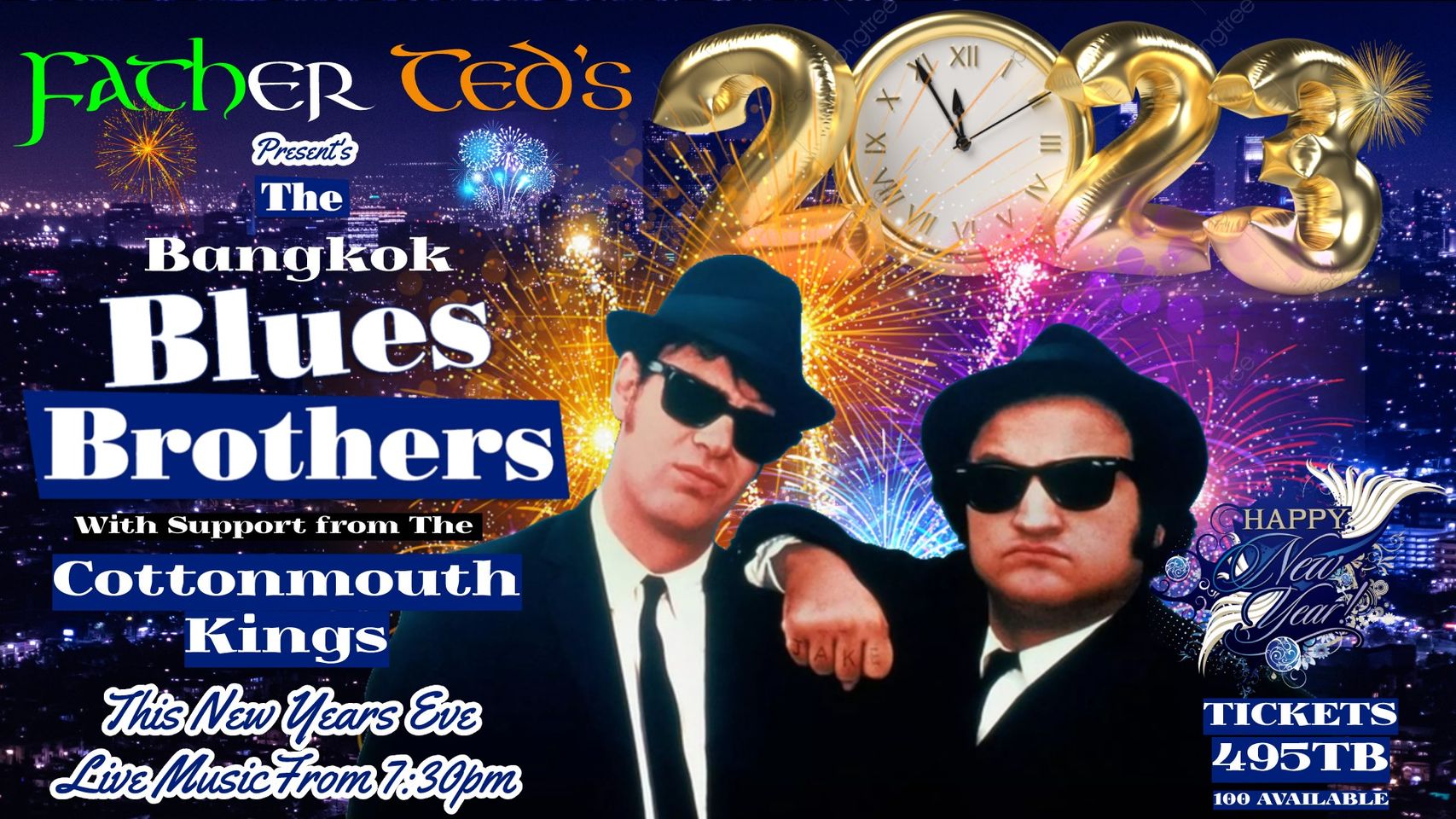 This New Year's Eve, performing for the very first time in Hua Hin, enjoy the all elusive, yet legendary, 9 Piece, brass sectioned backed, BANGKOK BLUES BROTHERS, on a mission from god, as they ring in 2023 in Hua Hin's premier Irish Pub and live music venue.
This incredible headlining extravaganza will be backed on the night by non-other than the living legend himself Keith Nolan and The Cottonmouth Kings, who not only headlined the Hua Hin Jazz festival a few years back but also on many a legendary night out, tore the roof off of Ted's. These lads are without question a masterpiece act and should be headlining and performing alone so count your blessings that we have both shows rocking on the very same night.
and Guess what folks … just when you thought we couldn't possibly add any more quality to an already stacked, smoking hot New Years' Eve entertainment lineup, we offer just that in the shape of our local in-house acoustic mystro's, Ricky and Don Stonetown, who will Kick things off nice and early, creating the perfect ambience for you and yours with their easy listening selection of acoustic delights over dinner.
Aah go on go, guess what, you know we had to go and do it, while others would have probably called it a night at that point, we have gone ahead and arranged a very special international guest Dj, exclusive to Ted's to unwind the night with an audio visual set filled with New Years Eve Bangers and treats to keep you dancing until late on into 2023.
Tickets will be available to pick up from our cashiers desk from December the 1st in Father Ted's with a limited 100 on offer. We will have to operate on a first come first serve basis, so make sure to get in touch with with us A.S.A.P. Every ticket holder will receive a complimentary welcome drink downstairs between 6 and 8pm.
Our highly skilled head chef of 7 years and his amazing team will have a number of delightful specials available on the night and as always, we will go, A La Carte, in order to please as many of you lovely people as possible.
We can assure everybody now, this incredible one-of-a-kind musical experience will go unrivalled in Hua Hin this year. Every band member is an incredible musician and months of preparations have already gone into making this show possible. Our sound system is sounding better than it ever has before and will have to, cope with the full Brass section and Big Band experience that comes accompanied by the Bangkok Blues Brothers and the Cottonmouth Kings.
For those of you who miss out on tickets for the show, please keep in mind that the general public is more than welcome to enjoy the show for free from our overlooking Balcony upstairs at any stage during the night or later on downstairs once the Dj has started and tables become free.
Spot prices on the night for the best-dressed Blues Brother, Sister or Nun. Don't forget your hats and shades, we are all on a mission from God and no better place to be doing it than in Father Ted's on NYE.
So come December the 31st, make sure you look the part and most importantly be ready to enjoy yourself, let's Dance away 2022 together and welcome 2023 with open arms.