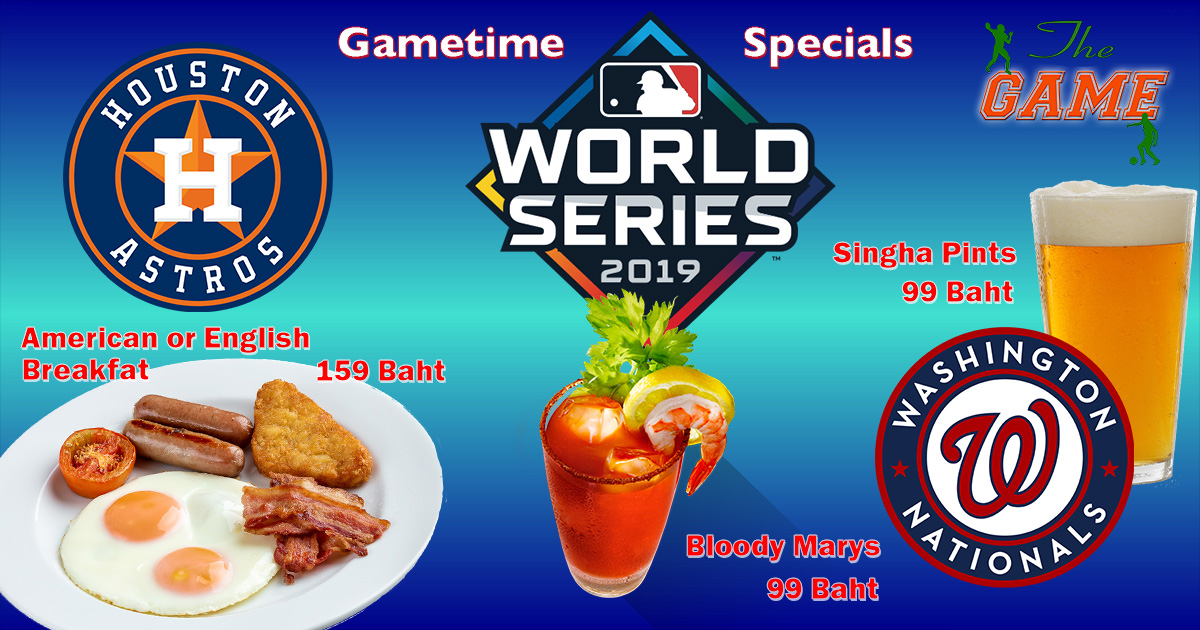 The Game Hits Home Run with World Series Gametime Specials 
As America's Major League Baseball World Series returns to Washington, D.C. for the first time in almost 90 years, The Game is rolling out some star-spangled specials for fans coming to watch the Astros-Nationals showdown live.
First pitch in World Series Game 1 isn't until 7:08 a.m. Wednesday, but The Game on Sukhumvit Soi 9 in Bangkok has already hit a home run with its food and drink lineup.
During each game – Wednesday, Thursday, Saturday and Sunday (and the following Monday, Wednesday and Thursday if necessary) – The Game will have American (and English) breakfasts for just 159. Fans can wash it down with 99-baht Bloody Marys or Singha Pints.
The Washington Nationals and Houston Astros' best-of-seven is for fans who liked their baseball the way it used to be: Ol' Country Hardball, with powerful starting pitching from future Hall of Famers Justin Verlander and Max Scherzer, plus the coming baseball's biggest free agents to be: Anthony Rendon and Gerrit Cole. 
Each game will be tight and every out counts. Get to the game at 7 a.m. for every pitch, swing and hit with great breakfasts and drinks to cheer for.