Are you gay, have trouble telling who is gay and who isn't? Have no fear our neighbours in Malaysia have come up with a handy if altogether useless guide to determine who may or may not be homosexual.
Have you ever struggled to try to differentiate a straight up lager swilling straight guy with a pina colada sipping gay guy? Personally, I have never had a problem spotting a backdoor banger from a mile off; it's always the suttle hints that I pick up on such as he walks better in high heels than my girlfriend does, he talks more feminine than she does and wears more make for a few pina coladas on a Tuesday night with his "queens" than my girlfriend does on a Saturday night out.
Well, no need to fear if you cant sport a gay Gordan from a straight Steve those lovely people at the Sinar Harian in Malaysia have come up with a rather handy guide on " How to spot a gay man ". According to sources, the local rag based in Malaysia has put together a guide for those still stuck in the 20th century which will enable them to spot a backdoor banger or a bean flicker living and working amongst them.
The article suggests that a gay man can be identified by their love of beards and frequent visits to the local gym. Now shoot me down here but a man with a beard in a Muslim majority country! Jesus Christ, shouldn't they be publishing a guide on how to spot a straight man instead of a gay one?  The article also goes on to say if you are a lover of designer labels then you surely must be batting for the other team. Well, that's the Hi-So crowd confined to a life of bum love, better stand with your arse against the wall if you visit a Hi-So club in Kuala Lumpur anytime soon. Other wacky ideas on how to spot to spot a homosexual are listed below:-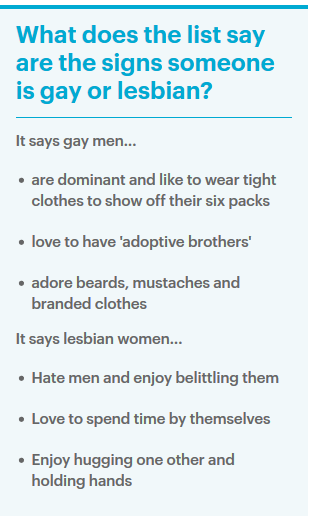 Local activist and social media star Arwind Kumar lashed out at the article, saying the increasingly poor treatment of gay, lesbian and transgender people in Malaysia is being driven in part by the increasing influence of conservative Islam. A local religious preacher, Hanafiah Malik, said that there was an urgent need to stop the rise of homosexuality in Malaysia.